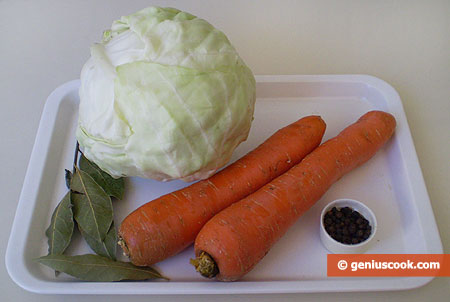 Sauerkraut Prepared with Carrot and Black Pepper
Fall is the season of preparing sauerkraut in Russia. Sauerkraut is very tasty and can be used in salads, soups, various pies; it is used for stewing meat and potatoes. Generally cabbage is salted with carrots, sometimes with the addition of sweet pepper or some sour berries. To ferment cabbage in weak brine you better pick late kinds of cabbage. Sauerkraut is extremely healthy for it retains all its vitamins, and during the process of fermentation new compounds with antioxidant qualities are formed.
Ingredients for Sauerkraut Prepared with Carrot and Black Pepper
White cabbage – 4.4 lb/2 kg
Rough salt – 2 tablespoonfuls
Sugar – 1 tablespoonful
2 carrots
Black pepper peas – 1 teaspoonful
4-5 bay leaves
Cooking Instructions
Chop cabbage finely, grate carrots roughly.
Add salt, sugar, black pepper, bay leaf broken in half.
Knead all the ingredients with your hands until they exude juice. If there is not much juice, you may add a cup and a half of water.
Put the cabbage pressing it down tightly into a glass jar, put weight on top – for example, a plate and a jar filled with water. The cabbage must be completely covered with juice.
The best temperate for fermentation is considered to be that of 18 to 20 degrees. You'll have to watch the process of fermentation. After a while the brine will foam up and try to get over the brim. You'll have to take off the weight, take away the superfluous foam and use a wooden stick or a long knife to stick it through to the bottom to let the gases out.
The cabbage is ready once the foam has gone and the rising juice has subsided. It usually happens on the third day. At the end of the fermentation process the cabbage acquires a refreshing, pleasantly sour taste.
Place the ready sauerkraut in a cold storage. The best temperature for storing sauerkraut is 0 to 2 degrees.
https://geniuscook.com/wp-content/uploads/2009/10/Ingredients-for-Sauerkraut-Prepared-with-Carrot-and-Black-Pepper.jpg
302
450
Elena and Alfredo
https://geniuscook.com/wp-content/uploads/2014/02/gc-logo2.png
Elena and Alfredo
2009-10-14 19:30:14
2009-10-17 19:30:34
Sauerkraut Prepared with Carrot and Black Pepper