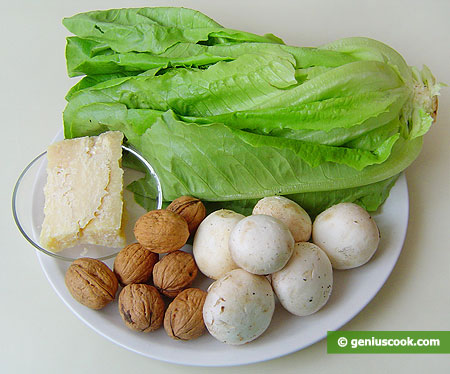 You will be immensely delighted with the soft and harmonious taste of this salad. The marriage of walnuts, raw champignons, Parmesan and leaf Romano lettuce creates an exquisite mouthfeel which is sure to satisfy the most delicate palate. This salad will especially please those who do not like strong smells. If you prepare it for a romantic dinner it will go just fine with white dry wine, bestowing you with a new pleasant sensation.
Ingredients for Salad with Raw Champignons, Nuts and Cheese
0.4 lb/ 200g Romano lettuce
0.4 lb/ 200 g raw champignon mushrooms
6-8 walnuts
0.2 lb/ 100 g Parmesan cheese
juice of one lemon, olive oil, salt
Cooking Instructions
Prepare the mushrooms first. Rinse them in running water well and drain in a colander.
Then scrape the skin off the caps and the stems with a knife, cut off cap and stem edges, peel off the skin under the caps.
Rinse the mushrooms in running water well and drain in a colander again. That way you can be sure that you can eat the mushrooms safely.
When the mushrooms dry a little, chop them thinly, salt slightly and sprinkle them with lemon juice.
Tear lettuce leaves into large pieces with your hands.
Break walnut cores into quarters.
Chop Parmesan cheese with a knife. This firm cheese being fragile and flaky it will crumble.
Then mix all the components together in a big salad bowl, or for each portion separately.
Dress the salad with olive oil, drizzle with lemon juice and salt to taste. The salad is meant to be eaten straightaway. It is usually made 5 minutes prior to eating.