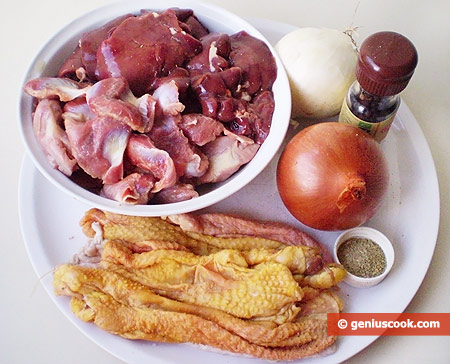 The Stuffed Chicken Necks Recipe
This is a Jewish dish. The skin from chicken necks is stuffed and then boiled, baked or fried. You can take turkey, goose or duck necks instead of chicken. Or you can take the skin off the whole chicken and stuff it. If you can't find chicken necks in stores you can simply cut the skin off the chickens you buy. Thus it came about that we discovered we have got several stacked in our freezer and we opted to stuff them.
Ingredients for Stuffed Chicken Necks
6-7 chicken necks
2.2 lb giblets, or chicken meat
2-3 onions
1 tablespoonful mixture of aromatic herbs
an egg
salt, pepper black
0.1 lb chicken fat
a few nuts
Recipe for Stuffed Chicken Necks
Melt chicken fat on a frying pan and fry onion.
Mix it with chopped giblets, or chicken meat, add egg, salt, spice and seasoning, chopped nuts.
Mix it all well and stuff necks with the mixture. Sew them up or tie up with a rope.
Put the necks on a baking tray. Bake at 356 degrees for about 40 minutes.
When the necks have cooled down cut them up.
https://geniuscook.com/wp-content/uploads/2011/12/per-collo.jpg
364
450
Elena and Alfredo
https://geniuscook.com/wp-content/uploads/2014/02/gc-logo2.png
Elena and Alfredo
2011-12-31 11:53:49
2011-12-31 11:53:49
The Stuffed Chicken Necks Recipe