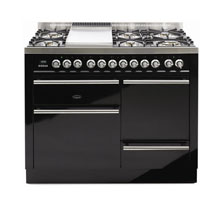 Reason to Buy a Range Cooker: Functionality
With the kitchen being the most valuable room within the home as well as the most populated area of the house, making it even more special by adding a stunning new cooker is a logical step. Research indicates that the kitchen is the most sociable room within any property and it is often the aromas of cooking that entice people to congregate and socialise in that area. Installing a range cooker not only adds a touch of class to any kitchen, but also has a level of functionality that smaller cookers cannot replicate.
Being substantially larger than traditional cookers, a range not only has the obvious advantages of a spacious double oven and multiple hob cooking zones but also the superb facility of dual power.
Most ranges have two large separate ovens that can be used to cook very different dishes without fear of cross contamination of cooking odours, ensuring that each and every meal produced within the ovens is perfectly cooked and untainted by having to share its space with another type of food, strong flavouring or smell. The ovens are most commonly powered by electricity and provide a convection or fan cooking facility. This is considered the most effective way to reach and maintain optimal cooking temperatures.
The hobs are normally powered by gas, allowing for greater heat control and flexibility dependant upon the type of heat required, high for dishes utilising a wok and lower for perhaps bringing milk to a slow boil, and everything in between. Most multiple hobs have specific shaped and burner eyelets for specific cooking methods such as griddles, fish burners, woks and ring/pan stands.
The real beauty of range cookers is that it they are free standing cookers that can be transferred with you if ever you move properties or just have a desire to refresh or upgrade your kitchen. Where a range is a greater size than a more conventional family cooker, it actually takes less effort to clean. The catalytic lining is manufactured to absorb grease and dirt accumulated during the cooking process, and then safely burn it off, ridding the oven of any build up of unwanted residue. In the case of juice spillage within the ovens, there are substantial overflow or spillage trays in the bottom of the cooker that are easily accessible and simple to empty – even the largest trays holding 9 litres of fluid are comfortable to handle.
Range cookers are primarily made of designs that can be classed as traditional, with large sophisticated frontages made contemporary with sleek lines and facades in stainless steel, black, or a small range of popular colours that can combine or contrast with an existing colour scheme. The ranges are solid, durable and reliable and provide a lifetime of wonderful and varied cooking opportunities at great cost and with a superb, professional kitchen quality. For all cooking needs, a wonderful kitchen centrepiece and a lifelong cooking companion, a range cooker is the obvious choice.
https://geniuscook.com/wp-content/uploads/2012/03/range-cooker.jpg
200
220
Elena and Alfredo
https://geniuscook.com/wp-content/uploads/2014/02/gc-logo2.png
Elena and Alfredo
2012-03-23 17:30:55
2014-06-22 07:18:33
Reason to Buy a Range Cooker: Functionality