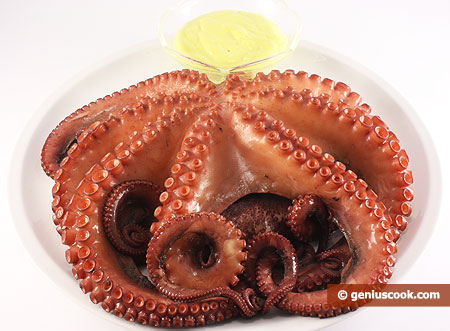 The Recipe for an Octopus with Mayo
Octopuses make a very healthy food. 0.2 lb boiled octopus contain 350 mg omega 3 fat acids. These acids are known to participate in many metabolic processes, and we should get them every day if we wish to enjoy good health. Besides, octopuses are very tasty. It's better to take home-made mayo made of natural products instead of manufactured mayo, which is full of harmful hydrogenated fats. You can find a simple recipe for such mayo on our web site here Home-made Mayo. It is thick, wholesome and can be made very quickly.
Ingredients for Octopus with Mayo
Cooking Instructions
Gut the octopus body, remove the eyes, the mouth and the radula and rinse it well in running water.
Boil about 1 pt water in a pan, dip the octopus body into the pan slowly tentacles down. It will make the octopus tentacles curl nicely.
Cover the pan and boil the octopus for about 30-40 minutes, salt to taste.
Turn the heat off and leave the octopus in the pan until it cools. Take it out of the pan only when it has cooled. It is a small Italian secret to make octopus flesh soft and juicy.
Cut the octopus into medium slices, put them on the plates.
Top them with mayo, garnish with parsley and serve.