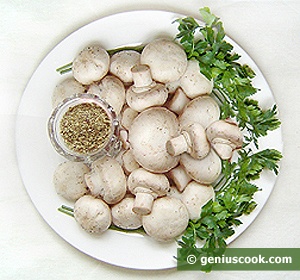 Champignons in Soar Cream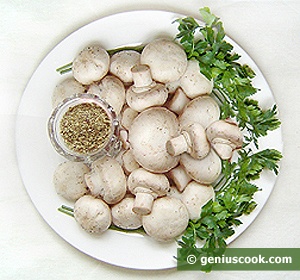 These champignons are perfect to prepare for a romantic dinner, especially for those who like mushrooms, their tender and unique aroma.
It's better to use young champignons for this dish and not too fatty sour cream.
During the preparation the dish acquires a subtle nut smack.
Ingredients for Champignons
1 kg champignons
1 onion
200 g sour cream
3 garlic cloves
Parsley
30 ml olive oil
Black pepper to taste
2 bay leafs
Salt and spices for mushrooms to taste.
Recipe of Champignons in Soar Cream
Fry chopped onion till it becomes golden brown.
Add washed and peeled mushrooms and fry together with the onion a little.
Pour it with sour cream.
Add minced garlic, pepper and other spices you like.
Cover and simmer for 20 minutes.
Uncover and simmer for 10 more minutes to evaporate the water. When the sour cream becomes a thick sauce of caramel color, finish.
Chop parsley and add it to the sauce.
Cover and turn off.
Serve in ten minutes. This dish should be eaten hot.