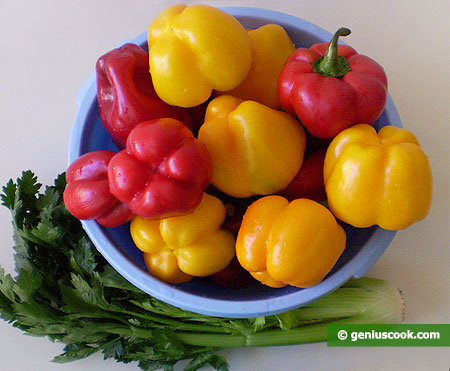 How to Marinate Sweet Pepper
Pepper marinated by this recipe is wonderfully tasty and flavorful. It will enrich your meal being a veritable delicacy. It is good as an appetizer and an excellent side dish to fish, poultry, meat, liver and even to fried potatoes or cheese. Every dish will get new shades of taste with it. If you prepare this pepper once, you'll fall in love with it and you will keep on cooking it because it is really very tasty. For this kind of marinating you need only juicy, firm, fleshy peppers with thick and firm flavorful pulp.
Ingredients for Marinated Sweet Pepper
6.6 lb/ 3/3 kg sweet peppers
0.7 lb/ 1.2 cups/ 300 g sugar
0.4 pt/ 0.8 cup/ 200 g 6 % grape vinegar
2 tablespoons large grained salt
some celery stalks with leaves
a couple of bay leaves and several peas of whole black pepper
3.4 fl oz/ 0.2 pt/ 0.4 cup olive oil
3.4 fl oz/ 0.2 pt/ 0.4 cup water
Cooking Instructions
Remove the seeds from the peppers and cut into large slices or long strips.
Pour vinegar and oil into a big pan, add water, salt and sugar, bay leaves, whole black pepper peas and celery stalks roughly diced.
Put the pepper slices in, cover and boil, stirring regularly. Boil over low heat for about 15 minutes.
Then put pepper slices into jars, fill in with the marinade and put the jars away into the fridge. This pepper can be eaten at will.
But if you want to preserve it for a long time, you'll have to glass them hermetically, putting pepper in dry jars with some celery leaves.
Then put hot pepper slices in jars and fill them with the boiling marinade in which the pepper was cooked.
Screw the lids onto the jars. Put the jars under a cover, tucking it in carefully. It gives extra sterilization because the jars maintain high temperature for several hours.