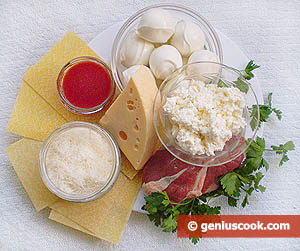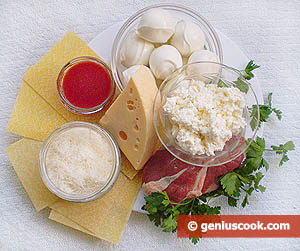 Lasagna is a traditional dish of Italian cuisine. It originated in ancient Rome and was called "Lagana". Lasagna was a favorite dish of Cicero and Horatio. Depending on the region, there are different ways to make lasagna. Try this special Neapolitan recipe. The recipe was invented by Neapolitan named Alfredo who replaced béchamel sauce with soft cottage cheese that made his lasagna so tender and juicy. It also includes nutmeg and basil to create an amazing flavor.
Ingredients for Lasagna from Alfredo
1-1.3 lb (500-600 g) beef
400 g fat and soft cottage cheese
300 g Mozzarella
150 g Parmesan
150 g Emmental
2 medium onions
3 garlic cloves
3 parsley stalks
1/3 cup (70 ml) olive oil
1 teaspoon ground nutmeg
1 lb (500 g) grated tomatoes
3 tablespoons (50 g) butter
Basil, salt to taste
300 g lasagna noodles (if you want to make the dough for lasagna noodles by yourself, mix 200 g flour with 1 egg and some water)
Recipe of Lasagna from Alfredo
Wash meat, cut into medium pieces and grate.
Finely chop garlic and onion.
Sauté garlic and onion together until golden.
Add parsley and put ground meat a minute later.
Cook everything together for 5 minutes, stirring occasionally.
Then stir in nutmeg, basil and grated tomatoes.
Season with salt to taste, cover and simmer over medium heat for 15 minutes.
Uncover and mix everything well.
When the sauce starts to get thick, turn the heat off.
Let cool and add mashed cottage cheese.
Mix everything together.
Coat baking dish with butter.
Line the bottom of baking dish with a tight layer of lasagna noodles.
Spread meat sauce over noodles evenly.
Top with grated parmesan cheese.
Place thin slices of mozzarella over parmesan.
Then cover mozzarella slices with another layer of noodles.
Spread meat sauces again, add parmesan and mozzarella.
Repeat layers until pan is full.
Sprinkle top layer with thin slices of Emmental cheese.
Cover the pan and bake in preheated oven for 30 minutes.
Uncover and bake for an additional 10 minutes until the crust is nicely brown.
Remove and let cool for 5-10 minutes.
Cut with a special blade into portions and serve hot.
https://geniuscook.com/wp-content/uploads/2008/11/ingredients-lasagna.jpg
251
300
Elena and Alfredo
https://geniuscook.com/wp-content/uploads/2014/02/gc-logo2.png
Elena and Alfredo
2008-04-08 17:56:58
2009-03-18 06:50:28
Lasagna by Alfredo