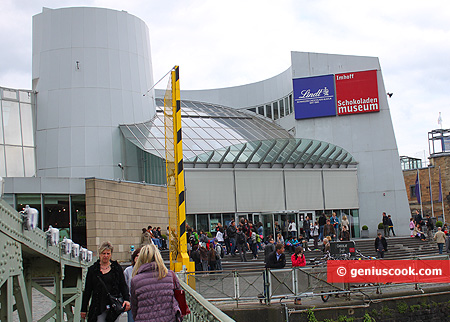 Journey to the World of Chocolate – Chocolate Museum in Koln
When we were in Germany, we visited the famous Chocolate Museum in Koln. One gets there by a small train that leaves from the Koln Cathedral every half hour.
We tried to perpetuate the unforgettable and incredible impressions of the visit in photos and a report from the venue.
The museum is located on the bank of the Rhine, on a small island. The building is shaped like a ship.
The museum exhibits the history of chocolate and the technology of the production. One can see there all the way from growing cocoa beans to the final product. The visit begins with a hothouse shaped like a glass cube maintaining tropical conditions of temperature and humidity. The entrance is double doors like a flood gate helping to keep up the conditions. The hothouse teems with exotic plants, orchids, lilies, ferns, and coca trees among them.
Going further one sees the ingredients from which chocolate is made. There is a huge chocolate fountain resembling a cocoa tree that has 200 kilograms of warm Lindt chocolate circulating. This wonder is set against resplendent sights of the Rhine seen through enormous windows.
The Museum employee picks up a handful of fresh crispy waffles, dips them into a chocolate mass and offers this treat to visitors. It's so delicious!
There is also a miniature chocolate factory nearby. Visitors can see through a glass how chocolate is being made. The process is fully mechanized, there are robots mixing chocolate mass, pour hot chocolate into forms, cool down and pack the ready product. There are only two people working, who supervise the process and pack chocolate bars into boxes.
On the first floor of the museum is a shop where you can buy all of this unique and delicious products.
https://geniuscook.com/wp-content/uploads/2013/06/entrance-to-the-factory.jpg
322
450
Elena and Alfredo
https://geniuscook.com/wp-content/uploads/2014/02/gc-logo2.png
Elena and Alfredo
2013-06-21 18:24:22
2014-06-13 06:22:51
Journey to the World of Chocolate – Chocolate Museum in Koln