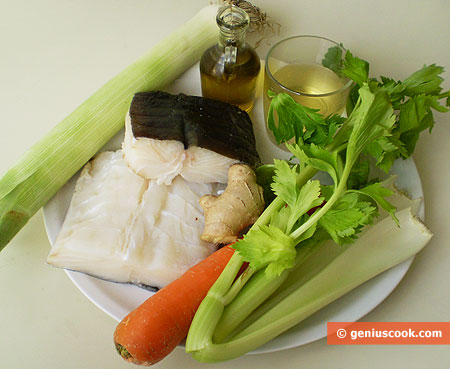 How to Make Stewed Cod in Ginger Sauce
The large Norwegian cod has tasty white meat which delights Italians so much that they have been importing it since time immemorial. Generally Italians show preference for salted cod (baccala), which they keep in water for several days before eating, but one can find frozen cod in stores as well. It tastes the same.
Ingrdients for Stewed Cod in Ginger Sauce
2.2 lb cod(frozen)
1 leek (the white part)
1 stalk celery
1 tablespoon grated ginger
1 carrot
0.2 pt dry white wine
4 tablespoons olive oil
salt
Recipe for Stewed Cod in Ginger Sauce
Pour oil into a deep frying-pan and fry leek.
Add celery and grated ginger. Stew it all together for about 2 minutes, then put in roughly grated carrot.
In another 2 minutes add wine. When it boils, put in pieces of cod and add water so that the fish is almost covered.
Simmer for about 20 minutes, covered, on low heat.