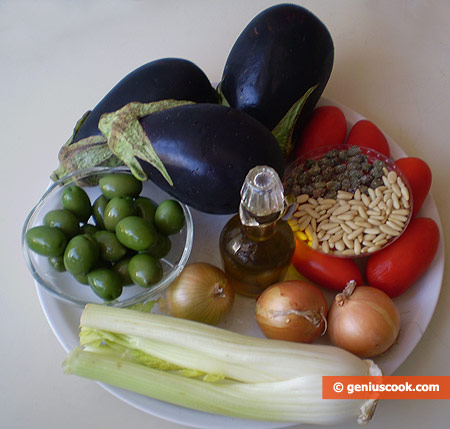 How to Make Sicilian Caponata (Caponata alla Siciliana)
Sicilian cuisine conceals some subtle mystery. Some combinations of tastes may be arguable. But as soon as you dig into any Sicilian dish, arguments die down, and everyone just enjoys the taste. So follow this recipe and you'll get a delicious dish.
Ingredients for Sicilian Caponata
3-4 eggplants
a couple of celery stalks
1.1 lb tomatoes
3 onions
1 tablespoon salted capers
2 tablespoons pignoli (pine nuts)
0.5 lb green olives
Oregano (marjoram), olive oil, grape vinegar, sugar, salt: all to taste.
Recipe for Caponata alla Siciliana
Cut eggplants into cubes, salt and leave for 1 hour, for to remove excess liquid. Then wash off the salt, squeeze and dry with paper towel.
Pour some olive oil into the frying pan to cover the bottom half an inch high. Fry the eggplants in small batches until they get nicely golden. Take them out with a perforated spoon and place on a plate with a paper towel to absorb unnecessary oil.
Put celery and pignoli into the frying pan and fry for 3 minutes, then take them out and place onto another plate with a paper towel.
Now add in the frying pan chopped onion and fry 1-2 min, add skinned and chopped tomatoes and stew until the sauce becomes thick.
Put back into the sauce the eggplants, the celery with pine nuts, and add capers, marjoram, olives. Stew for 10 minutes.
Add sugar and vinegar to taste. Sicilians sometimes add half a cup of vinegar, because they are temperament people, and love spicy food. We had the 3 tablespoons. Adjust the flavor as you prefer
Let it cool down. The longer the caponata is allowed to cool down the richer the taste. The next day, it will be even tastier
Note: You can play with the amount of ingredients to your taste and depending on how much you will be consumers. In any way, it is important to remember that the first violin is played eggplant, second – celery, and a third – the tomatoes. Rest of the ingredients is backing vocals.