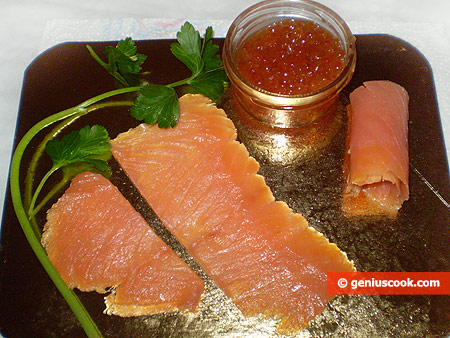 How to Make Salmon Rolls with Red Caviar
Smoked salmon rolls always look great on the table, and of course, the taste is just wonderful. It is another special way to serve red caviar. You and your family and friends will enjoy this exquisite appetizer; it will serve well for a romantic supper on St. Valentine's Day.
Ingredients for Salmon Rolls with Caviar
0.2 lb smoked salmon fillet
0.1 lb red caviar
parsley or spring onion
Recipe for Salmon Rolls with Red Caviar
Cut thin pieces of salmon fillet into accurate strips. You can get the fillet a bit frozen, then it will cut easier.
Roll the strips up and tie up with parsley or onion stalks.
Fill the rolls with caviar using a small spoon.