How to Cook Healthy Baby Food at Home?
Babies are the most light of life. They can add a totally different form of energy in the daily life of a family. The crackles of a baby can turn the environment of the home to a great extent. A healthy baby is a gem to a home that can keep it filled with happiness. Food is one of the most important aspects for a baby to grow properly. It is not only important to the babies, but it is also important for all the living creatures of the world. Babies require every type of nutrients to grow up with a healthy body and mind. The deficiency of food may cause morbidity or disability to a baby and thus they can be handicapped also. Above all, without proper food, a baby can die due to malnutrition.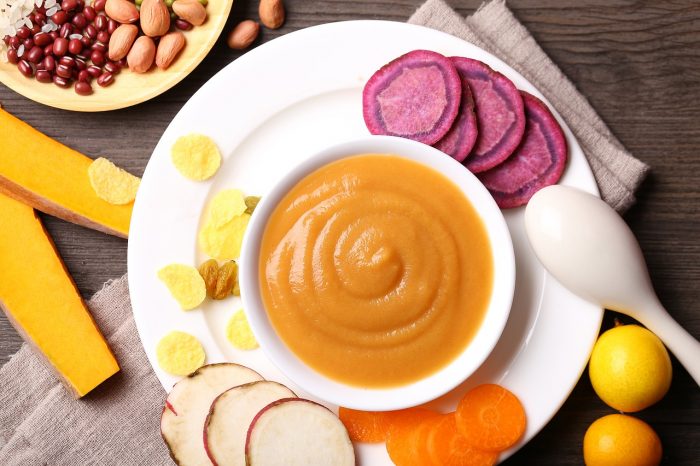 How to Feed Babies?
In a country like India where there is a high rate of infant mortality due to malnutrition, the availability of food in an adequate amount is more than enough. Here some people are very rich whereas there are more than 10 percent of people who don't have the availability of food at least two times a day. In those cases, most of the Indian mothers rely more on filling the stomach rather than a balanced diet. At the stage of infancy, most of the babies need comprehensive nutritional materials so that their growth can be balanced. Only a single item will not work at this stage.
In modern society, most mothers don't have the knowledge to make the perfect food for their babies. Besides due to their negligence in making foods at home, there is a tendency of different mal nutritional diseases among the babies. This is why different companies that produce baby foods or pharmaceutical materials have taken the initiative to make cookbooks for the new mothers. These books are enriched with several nutritious recipes of different mouth-watering foods for babies. These cookbooks help to provide the babies with a balanced diet plan with the materials available at home.
Best Foods for Babies
Usually, there are several companies that produce packaged baby foods for babies and they are easily available in the market. But there are so many families in the country who are not able to buy these packaged foods for their babies. Many eminent nutritionists have suggested the homemade foods for the babies. They have made it simple to make a healthy meal for babies starting from 6 months to 6 years. Till the age of 6 months, the babies don't need anything rather breastfeeding. But after a certain age, they need some nutrients from outside so that they can develop internal immunity and growth.
The most popular type of food in the Indian Context for the babies is a hotchpotch. Here you don't need to worry too much to make it. You just have to take all the eatables you have at your home like the grains, pulses, vegetables and all, and you have to put them all to boil. For taste, you can add minimal spices and after it is boiled well, the food is ready. Besides, there is a babyfood cookbook, where you get recipes one after one for your baby. These books are specially printed with the easiest ways to cook good and healthy food for your baby.
Nutritional Elements Required for the Babies
Since you are making the food especially for your baby, then you should definitely keep your eyes on the nutritional values of the food. First of all, you need to take care of the amount of food your baby can eat without being forced. It is necessary that your baby eats the food wilfully. Otherwise, the nutrients will not work properly. After that, you have to measure the amount of carbohydrate, protein, and fat available in that food. The basic formula is to maintain the ratio of 6:3:1 of carbs, protein, and fat. Along with these materials you need to give an adequate amount of water and vitamins and minerals. Then only your baby will get the best form of diet as required. It is better to give them some fruits which are essential to fulfill the requirement of minerals and vitamins in the body.
Safety Measures
When you are making food for your baby, you need to stay extra cautious about the hygiene of the food. If the baby is an infant then you have to wash your hands along with the utensils by warm water. It is better to use gloves while you are washing the utensils. On the other hand, you also need to take proper care of the food while you feed it to your baby. It should not either be very hot or very cold. The hygiene of the food ensures the utilization of the food in the body of the baby. This is why most of the doctors prescribe to have hand sanitizers before you feed your baby.
Help from Cookbooks
Feeding your baby with a single type of food may seem monotonous to the baby. In this situation, they may not want to eat the same food day after day. During infancy it is ok, but when they get a little older, then it becomes difficult to feed them. That's why you need to introduce variety in the meals cooked. The cookbooks are the perfect source of a variety of homemade recipes that will definitely attract your child to the food. This problem arises mostly when after the age of 4 years or 5 years your child starts going to school. It is a headache for every day to decide about the item you would pack for the tiffin time. These cookbooks are the perfect solution for working moms also. Sometimes these recipes are helpful for your benefit also. If you don't have time and energy to cook for yourself, then these recipes can turn out to be your friends. You can make any of the items quickly and eat.
https://geniuscook.com/wp-content/uploads/2020/02/baby-food-cook-children--e1582541744576.jpg
466
700
Elena and Alfredo
https://geniuscook.com/wp-content/uploads/2014/02/gc-logo2.png
Elena and Alfredo
2020-02-24 05:58:55
2020-02-24 05:58:57
How to Cook Healthy Baby Food at Home?