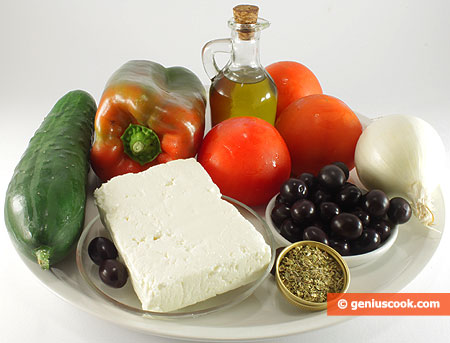 How to Make the Greek Salad
The Greek salad is served in the most expensive restaurants now. But it used to be a meal of Greek peasants. It was an everyday dish comprised of the most common products that could satisfy their hunger. But it is the simple things that are the best! This salad is really very tasty and nourishing. The base of its rich taste is black olives and the fat, melting, short-eating Feta cheese. The Feta cheese crumbles impart to the vegetables its salty rich taste, and olives add piquancy. Oregano or marjoram gives the salad a spicy flavor. Buy black olives with stones for this salad, they are much tastier. You'd be better off spending some time on preparing them yourself. This way they'll keep their oily taste. Fleshy flavorful peppers, sweet ripe tomatoes and cucumbers with their fresh fragrance are intertwined harmoniously in this salad. This may be the reason behind its popularity.
Ingredients for Greek Salad
0.4 lb Feta cheese
1 sweet pepper
2-3 tomatoes
1 cucumber
0.4 lb black olives
1 white or red onion
Extra Virgin olive oil, oregano to taste
Cooking Instructions
Cut an onion, a cucumber, tomatoes and pepper into cubes approximately of the same size.
Remove stones from olives, halve them.
Mix everything in a big salad bowl. Water it with olive oil and sprinkle with oregano generously, rubbing it between your fingers to make the fragrance more pronounced. Mix everything well.
Put the salad on plates. Top it with cubes of Feta cheese and sprinkle with oregano again. Feta cheese crumbles easily when mixed, so it is better to mix it with vegetables right on the plate. Usually this salad is not salted, as the cheese is salty enough.
Serve the salad at once with dried or fresh bread.
https://geniuscook.com/wp-content/uploads/2010/03/Ingredients-for-Greek-Salad.jpg
343
450
Elena and Alfredo
https://geniuscook.com/wp-content/uploads/2014/02/gc-logo2.png
Elena and Alfredo
2010-03-13 19:30:22
2010-03-13 19:30:22
How to Make the Greek Salad