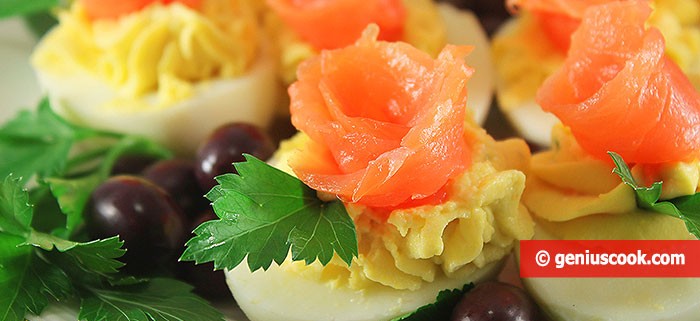 It is a great idea for a nice and tasty appetizer.
All the given ingredients are approximate, and of course, interchangeable. Imagination is welcome.
The dish can also be decorated according to your taste.
Ingredients for Eggs Stuffed with Salmon and Cheese
Hard-boiled eggs: 5-6
Smoked salmon: 150 gr.
Soft cream cheese: about 150 gr.
Sheep cheese or feta cheese 50 gr.
A bunch of parsley.
Spices to taste.
Olives for decoration.
Recipe for Eggs Stuffed with Salmon and Cheese
Eggs are hard-boiled, cut in half lengthwise, with yolks removed.
Put the yolks, cheese, parsley and some fish in a bowl and blend everything into a cream.
Leave another part of the salmon for decoration.
Fill the egg halves with the obtained cream.
Decorate them on top with roses by rolling strips of salmon.
Put halves eggs on a wide platter, garnish with parsley and olives.