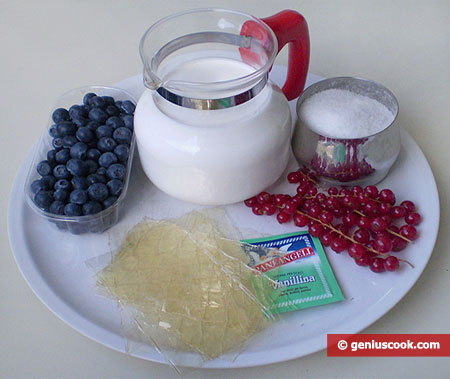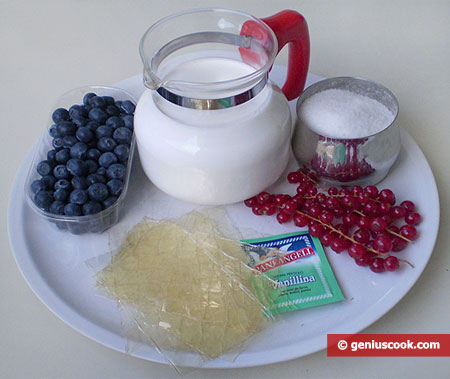 Dessert with Soufflé Cream and Fresh Berries Recipe
Soufflé cream is easy to make, it not fatty and it goes down well especially with fresh berries. This dessert with cream, fruits and berries can even do instead of a cake if you do not wish to bother overmuch with cooking or merely don't have enough time. The only thing that will take you about 2 hours is waiting while the cream thickens in the fridge. The whole process takes about 20 minutes. You can combine this cream with any cookies or wafers that have no fillings. You can also put this soufflé into ready tartlets.
Ingredients for Dessert with Soufflé Cream and Fresh Berries
1.1 pt cream
two eggs whites
4-5 gelatin slices
0.4 lb sugar
vanilla to taste
fresh red currant and blackberry
Cooking Instructions
Put gelatin into cold cream for 10 minutes. Then put the cream over the heat and heat them up stirring constantly until the gelatin has dissolved completely; add vanilla. Don't boil! Then cool the mixture down to room temperature.
Beat egg whites with sugar into dense foam and mix with the cream mixture. Beat it all together and put into the fridge for about 2 hours.
When the cream is well-cooled and thick, take some cookies, tartlets or round wafers like we did. Spoon cream on them, add berries, then put on more wafers and top them with more cream. Strew berries generously and serve at once.
https://geniuscook.com/wp-content/uploads/2009/12/Ingredients-for-Dessert-with-Soufflé-Cream-and-Fresh-Berries.jpg
379
450
Elena and Alfredo
https://geniuscook.com/wp-content/uploads/2014/02/gc-logo2.png
Elena and Alfredo
2009-12-10 14:00:51
2009-12-11 14:06:31
Dessert with Soufflé Cream and Fresh Berries Recipe