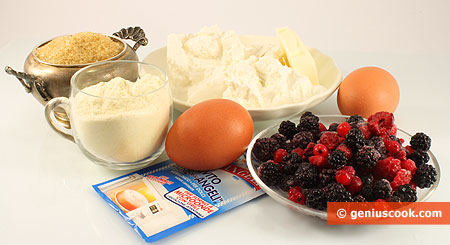 The Cottage Cheese Pudding with Berry Dressing Recipe
If you want to make a baked pudding with cottage cheese that won't settle down after it's been baked, you've come to the right place. We'll spill a few secrets of making a really delicious and tender pudding that won't dwindle into a pancake when it has gotten cold, but will retain its shape. It is a bit like a cake because we use baking powder.
Ingredients for Cottage Cheese Pudding
1lb Ricotta or cottage cheese
2-3 eggs
6 tablespoons cream or sour cream
3 tablespoons semola (harder kind of wheat) or you can use semolina instead
5 tablespoons ground dry wheat bread
5 tablespoons brown sugar
0.1 lb butter
a pinch of salt
a pack of baking powder
Ingredients for Berry Dressing
0.4 lb mixture of frozen forest berries
3 tablespoons sugar
1 teaspoon starch
Cooking Instructions
Pound eggs in a dish with sugar and salt.
Add butter cut into bits, sour cream and ricotta or cottage cheese.
Mix up semola or semolina, dry bread and baking powder and put in.
Mix all the ingredients together, it will be better if there are little lumps of butter and cottage cheese in the mixture.
Take a mold, oil it and sprinkle with dry bread crumbs. Put the mixture in.
Bake the pudding for about 30-40 minutes in an oven pre-heated to 360 degrees.
Then turn the heat off and leave the pudding there for another 15 minutes.
Meanwhile get the berry dressing ready. Put the berries on a frying pan and simmer them with sugar for about 5 minutes. To make the dressing thicker put in a teaspoonful of starch by the end.
When the pudding has cooled down, cut it up into portions and pour over with the berry dressing.
https://geniuscook.com/wp-content/uploads/2010/04/Ingredients-for-Cottage-Cheese-Pudding-with-Berry-Dressing.jpg
245
450
Elena and Alfredo
https://geniuscook.com/wp-content/uploads/2014/02/gc-logo2.png
Elena and Alfredo
2010-04-19 04:09:32
2010-04-19 04:12:46
The Cottage Cheese Pudding with Berry Dressing Recipe