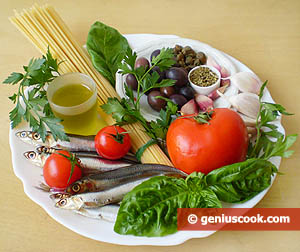 How to Cook Spaghetti with Anchovies and Olives
Ingredients typical for Mediterranean Italian cuisine are used in this recipe. These are spaghetti, anchovies, olives and capers. This combination of ingredients gives the dish fabulous and balanced taste. Aroma of black olives "di Gaeta" (they are of a bit tart acid-spicy taste), capers and oregano makes this dish savory and delicious. Besides, anchovies are rich in the strongest antioxidant omega3. This dish is liked both by children and adults.
Ingredients for Spaghetti with Anchovies and Olives
300g spaghetti
200g anchovies
300g tomatoes
4 tablespoons olive oil
100g black olives "di Gaeta"
10g or few capers
3 garlic cloves
0.5 teaspoon oregano
2 parsley stalks
Few basil leaves
Salt to taste
Recipe for Spaghetti with Anchovies and Olives
Wash tomatoes, parsley and basil and cut them finely.
Remove anchovies' heads and rinse their bodies.
Pit olives and cut finely.
Rinse capers to wash away salt and cut them finely too.
Chop garlic cloves finely.
When all ingredients are ready, pour olive oil in a frying pan and sauté garlic.
Now add parsley, basil and tomatoes and simmer for a couple of minutes. Then put oregano, olives and capers. Add salt to taste.
Cover and simmer over the low heat for 5 minutes.
Add anchovies into the sauce and simmer for additional 5 minutes.
Now put a saucepan filled with water on a stove for spaghetti.
When water boils, add salt and put spaghetti, stirring constantly.
Cook spaghetti al dente and strain off the water through a colander.
Put spaghetti back to the saucepan and pour over with some sauce. Toss to combine.
Put spaghetti onto the plates, top with anchovies, olives and the sauce and serve.
https://geniuscook.com/wp-content/uploads/2008/09/ingredients-for-spaghetti-with-anchovies-and-olives.jpg
252
300
Elena and Alfredo
https://geniuscook.com/wp-content/uploads/2014/02/gc-logo2.png
Elena and Alfredo
2008-09-24 05:25:58
2014-01-27 20:53:26
How to Cook Spaghetti with Anchovies and Olives