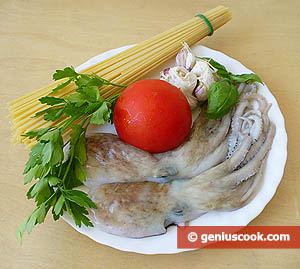 Spaghetti with Moscardini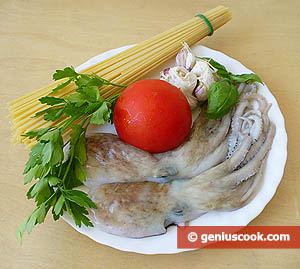 Moscardini are little octopuses that inhibit sea depths – up to 500 feet (150 m).
They are abundant in the Mediterranean and the Adriatic Seas and the catching season for them starts in summer. Their delicate and fragrant flesh is excellent for making various mouth-watering dishes.
Try this recipe where spaghetti goes well with a fresh taste and smell of the sea that penetrates trough the flesh of these octopuses. In addition, their flesh is very healthy and contains many essential substances.
Ingredients for Moscardini Spaghetti
300-400g spaghetti
1.3 lb (600 g) moscardini
3 tomatoes
3 garlic cloves
2-3 tablespoons olive oil
Couple of basil leaves
3 parsley stalks
Salt to taste
Recipe for Moscardini Spaghetti
Remove inc sacs of octopuses, their eyes and the radula between tentacles.
Wash the octopuses in running water well.
Heat oil in a thick-bottomed pot and sauté finely chopped garlic until golden.
Stir in shredded parsley and basil.
In a minute, add finely diced tomatoes.
Simmer tomatoes for 1-2 minutes; pour in a glass of water and season with salt to taste.
Put prepared moscardini's bodies into the sauce.
Cover and simmer for 30-40 minutes.
While the moscardinis are cooking, boil spaghetti.
Pour water in a deep pot. Bring the water to boil and drop spaghetti in, stirring well with a fork to ensure they don't stick.
Cook until al dente and use a colander to drain water.
Then put the spaghetti back into the pot and combine with moscardini and sauce.
Then put a portion of spaghetti and moscardini on each plate, topping with the sauce.
Note: Adding chilly pepper to the sauce gives this dish a special zest.
https://geniuscook.com/wp-content/uploads/2008/07/ingredients-for-moscardini-spaghetti.jpg
269
300
Elena and Alfredo
https://geniuscook.com/wp-content/uploads/2014/02/gc-logo2.png
Elena and Alfredo
2008-07-31 09:04:07
2014-03-30 18:11:10
Spaghetti with Moscardini