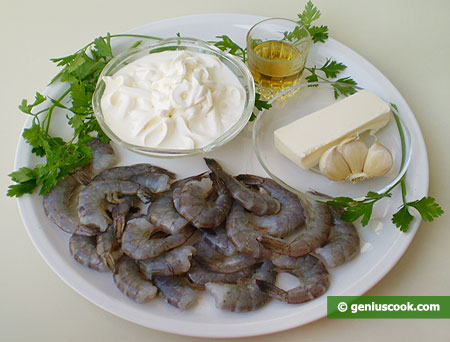 Tiger Shrimps in Creamy Sauce Recipe
Here is an easy way to cook large tiger shrimps in creamy sauce. But though the recipe is very simple this dish has a delightful taste that will satisfy those with the most delicate palate. It is the way they cook shrimps in the best restaurants of Naples. Certainly, they take only fresh shrimps but if you have no fresh ones handy, you can use frozen tiger shrimps too and get an excellent taste.
Ingredients for Tiger Shrimps in Creamy Sauce
1.3-1.5 lb large tiger shrimps without heads
6.8 fl oz/ 0.8 cup cream
0.2 pt/ 0.4 cup cognac or whisky
2-3 garlic cloves
2-3 parsley stalks
1.8 oz butter
salt, pepper
Cooking Instructions
Chop garlic and parsley finely with a knife.
Take shrimps flesh out of shells.
Put butter into a wide frying pan and fry garlic until nicely golden.
Then put parsley and in a minute add shrimps.
Fry shrimps stirring constantly for about 2-3 minutes.
Pour in cognac or whisky. When cognac has almost evaporated add cream. Put in salt, pepper and turn the heat off in 2 minutes.
Serve the shrimps in creamy sauce with crispy dried bread, dressed with lemon juice if you wish.