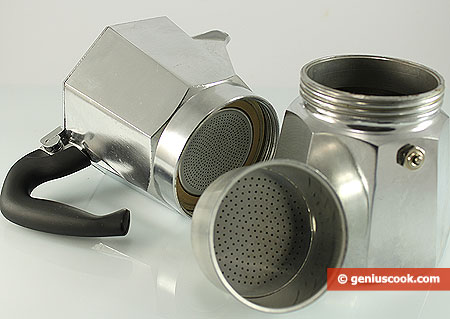 Brew a Nice Cup of Coffee in Mocha Espresso
Italian families invariably begin their morning with a cup of fragrant coffee. Coffee is prepared in aluminum geyser coffee percolator Mocha Espresso invented by Alfonso Bialetti in 1933. A coffee percolator is something Italians can't imagine their life without. There is one in every house, more often several, different-sized to suit any occasion. When you are breaking in a new coffee percolator first of all brew several cups of coffee and pour them out into the sink. This is done to coat the walls with coffee oils that will insulate coffee from aluminum. Coffee percolators are made from other metals too, but they are unpopular because the taste of coffee is considered to be greatly inferior.
How to Brew a Cup of Coffee in Mocha Espresso
A coffee percolator consists of an upper container and a lower one and filters, one a thin plate and the other a cup.
You pour water in the lower container up to the safety valve and put the filter on top.
Put not too finely ground coffee into the cup of the filter, don't press it down. If you want your coffee strong,  let it make a mound over the cup's level.
Screw on the upper piece of the machine tightly and put it on low heat.
After the water has boiled up the vapor passes through the coffee and comes up the upper filter, along the cone with a hole, into the upper container. As soon as all the water has come up, take the coffee percolator off the stove.
Now you can pour out fragrant strong coffee into cups.
How to Take Care of Coffee Percolator
You'll have to replace the rubber washer in the lower part of the upper container when it has worn thin.
Wash the percolator and the filters carefully with warm water. Never use any detergents that will take off the thin coat of coffee oils that insulate coffee from aluminum.
Now and then check the safety valve, it shouldn't be clogged.
Your Mocha Espresso will give you excellent and strong Italian coffee any time you want it at your place.
https://geniuscook.com/wp-content/uploads/2010/04/Unassembled-Coffee-Percolator.jpg
319
450
Elena and Alfredo
https://geniuscook.com/wp-content/uploads/2014/02/gc-logo2.png
Elena and Alfredo
2010-04-22 06:35:01
2010-04-22 06:35:01
Brew a Nice Cup of Coffee in Mocha Espresso