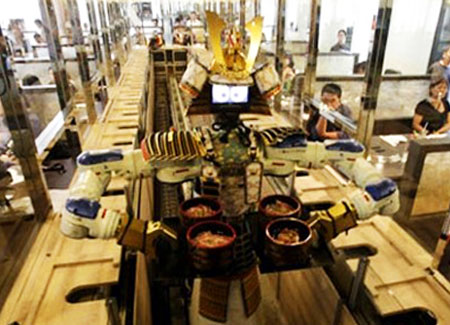 Thailand is Where Future Lives: Robot Waiters
Japan is the inveterate leader in the field of the newest technological developments. Here's another example of this: in a Japanese restaurant in Bangkok, Thailand's capital, customers are attended to by unique and unusual robot waiters. The restaurant, Hajime, is named after a Japanese samurai, so the four robot waiters who bring the orders are dressed up as samurais.
Curious customers who dare to stop by will have to choose their preferred dishes on touchscreens. In a while a robot will appear with your order. While people are eating the outlandish waiter will dance for their entertainment. To ensure the customers' safety, the samurai robots can move not over the whole area of the restaurant but only in a restricted fenced-in space with the tables placed around it. Who knows, the samurais may one day revolt against drab work.