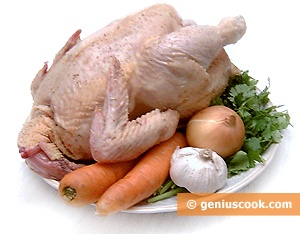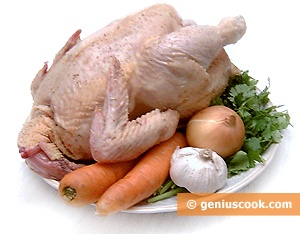 Nothing could be better than tasty and rich aspic. Make your family happy and indulge them with this dish. Moreover, aspic is a good preventive measure against scoliosis, osteochondrosis, backache and joint problems, because it is rich in calcium and substances that help maintain healthy tendons and bones. Aspic made with rooster or chicken is so good and easily digested. If you don't want to use gelatin, add pork knuckle to ensure your aspic set properly. Just put pork knuckle in pot and boil for an hour and then add rooster or chicken. However, rooster aspic sets well by itself.
Ingredients for Rooster Aspic
1 rooster
2 onions
1 carrot
4 bay leaves
4 garlic cloves
10 black pepper peas
1 parsley stalk
30 g olives
Salt to taste
Recipe of Rooster Aspic
Wash the rooster, cut into pieces and put in pot.
Cover meat with 0.5-1 inch of cold water.
Boil over medium heat.
As water boils, remove foam from broth with a skimmer.
Then add washed, but unpeeled onion to give meat broth nice color.
Add another onion (peeled and cut into large pieces).
Put bay leaves, black pepper and salt to taste.
Simmer over very low heat for two hours.
Then peel and cut the carrot and add into meat broth.
Let boil for two hours.
Then add chopped garlic and turn the heat off. Cover with a lid and let stand for 5 minutes.
Now take the meat out and arrange on plates.
Before adding meat broth, check if it sets properly.
Put a ladleful of broth into a small bowl and place in freezer.
If this broth sets in 15-20 minutes, the aspic will set properly.
If not, use gelatin: mix a spoonful of gelatin with a few tablespoons of broth, wait until gelatin swells and then combine with the rest of broth and heat until warm, but avoid boiling.
Then strain the broth and pour over meat.
Add pitted olives and garnish with parsley.
Put in cold place.
Serve when aspic sets properly.
https://geniuscook.com/wp-content/uploads/2008/02/gall2-copy.jpg
234
300
Elena and Alfredo
https://geniuscook.com/wp-content/uploads/2014/02/gc-logo2.png
Elena and Alfredo
2008-02-04 11:09:11
2014-01-27 17:29:39
Rooster Aspic