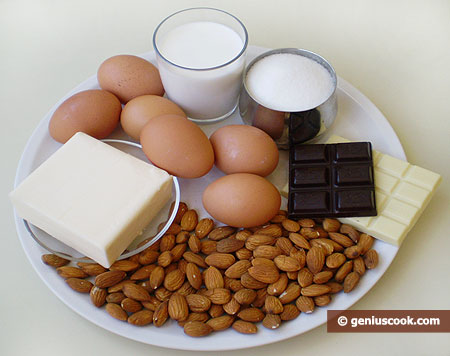 Valentine's Day Esterhazy Cake Recipe
Esterhazy is a well-known Hungarian politician and aristocrat. There is no way to know now whether it was he who invented this recipe or he just loved this cake. Some sources say that his court cook made this pie for his son's birthday. But it's no big deal. The fact remains that this almond cake with delicate garnishing and delicious taste was named after Prince Esterhazy. If you are going to make this cake for your lover for St. Valentine's Day you can place a heart-shaped piece of chocolate in its centre. You can make it yourselves – heat a heart-shaped tin form and cut a heart out of a plain chocolate bar.
Ingredients for Crusts
6 egg whites
0.4 lb almond nuts
0.4 lb sugar
Ingredients for Cream
6 yolks
0.6 lb butter
0.8 cup milk
0.2 lb sugar
1 bag vanilla
3 tablespoons cognac
Ingredients for Decorating
0.4 lb white chocolate
0.1 lb plain chocolate
almond nuts
Cooking Instructions
Grind almond nuts into powder with a combine.
Whisk cooled egg whites with a pinch of salt until strong foam builds up.
Add sugar gradually; continue whisking the mixture until the whites can hold shape.
Add ground almonds into the mixture gradually and mix it with a spoon until smooth.
Coat a cake hoop with cold butter and sprinkle it with flour heavily. Spread the egg white and almond dough evenly over the hoop.
Bake every crust until nicely brown at the temperature of 320-360 degrees. You'll get 4-5 crusts. The number of crusts depends on how you spread the dough and the size of the hoop. We got 4 crusts.
Now let's make the custard. Whip the yolks up with sugar, vanilla and three spoons milk.
Pour the remaining milk into a pot with a thick bottom. When it is heated, add the yolk mixture into it gradually. Stir it constantly and turn the heat off at once as soon as it begins to boil. Cool the mixture in the fridge.
Add soft butter (it should be of room temperature). Beat the custard with a mixer. Add 3 spoons of cognac at the end of the process.
Spread the crusts with the cream. Double-boil white chocolate and pour it on the top of the cake.
Then double-boil black chocolate. Garnish the cake, drawing a chocolate curl from the centre to the edges using the thinnest cake decorating syringe or a pastry bag. You can also use a cone made of thick paper.
Then draw some lines perpendicular to the curl using a knife. You'll get a net-like pattern typical of this cake.
Sprinkle the cake sides with cut-up almond nuts. You can buy such almond nuts readymade or make them yourself. You'll need to presoak almond nuts in warm water and in about 20 minutes they will peel easily. Then cut almond nuts with a knife into thin slices.
Put the cake in a cold place for 8-10 hours to let it blend well.
https://geniuscook.com/wp-content/uploads/2010/02/Ingredients-for-Esterhazy-Cake.jpg
356
450
Elena and Alfredo
https://geniuscook.com/wp-content/uploads/2014/02/gc-logo2.png
Elena and Alfredo
2010-02-04 06:57:46
2010-05-16 16:25:02
Valentine's Day Esterhazy Cake Recipe