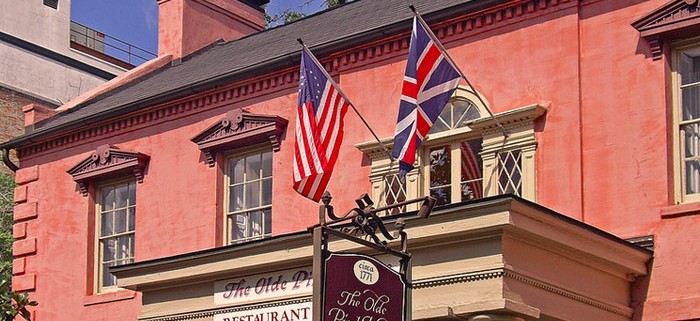 Top Southern-Style Restaurants in Savannah
Savannah, located on the Atlantic coast of Georgia, is known for its historic Victorian buildings, its many squares (22 of them), and its long culinary history. Though you can find all types of food in this cosmopolitan city, some of the best restaurants are the most traditional, serving down-home, Southern-style dishes. If you're staying at one of the hotels near the Savannah airport or one of Hipmunk's other Savannah hotels, you're not far from one of the city's top Southern-style restaurants. Here is just a sampling of them.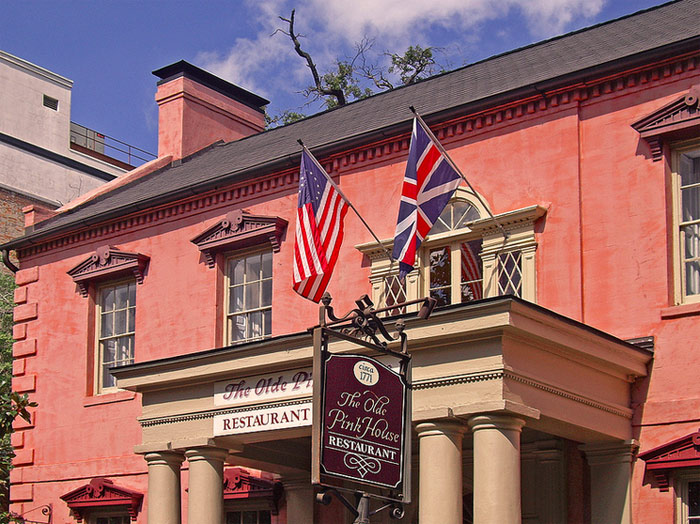 Image via Flickr by Ron Cogwell
Mrs. Wilke's Dining Room
Mrs. Wilke's Dining Room, located downtown near the Courtyard by Marriott downtown, is another bastion of Southern home-style cooking. The casual eatery, which is open for lunch Monday through Friday, serves traditional Southern favorites like fried chicken, sweet potato souffle, and black-eyed peas on large, family style tables. Note: Mrs. Wilke's Dining Room is a cash-only establishment.
Mrs. Wilke's Dining Room, 107 W. Jones St, Savannah, GA 31401; (912) 232-5997
The Pirate's House
Located near the Savannah River in downtown, this huge restaurant is popular with tourists and locals alike. The menu includes a diverse selection of fresh seafood and fish items, including the house specialty, she-crab soup. There's also a luncheon buffet filled with Southern favorites. The Pirate's House is open for lunch daily and for dinner Monday through Saturday.
The Pirate's House, 20 E. Broad St, Savannah, GA 31401; (912) 233-5757
The Olde Pink House
Located in an 18th-century Georgian-style mansion in the heart of downtown Savannah's historic district, the Olde Pink House is a Savannah tradition. The menu features things like jambalaya, soft shell crab (in season), and comfort food like stuffed pork chops and macaroni and cheese. The small, romantic dining rooms are candlelit and feature fireplaces and white linen tablecloths.
The Olde Pink House, 23 Abercorn St, Savannah, GA 31401; (912) 232-4286
Paula Deen's The Lady and Sons Restaurant
Paula Deen may not have put the Savannah restaurant scene on the map, but she and her sons have certainly added to its popularity. Their downtown restaurant, The Lady and Sons, owned by the Food Network star and her two boys, Jamie and Bobby, is a popular city attraction. It's also one of the best restaurants in town. The food here, as one would expect, includes myriad Southern favorites with the Deens' unique twist, such as fried green tomatoes, Paula's black pepper shrimp, and chicken pot pie. There's also a buffet for both lunch and dinner filled with Southern dishes. The Lady and Sons is open daily for both lunch and dinner.
The Lady and Sons; 102 W. Congress St, Savannah, GA 31401; (912) 232-1781
Do you have a favorite place you like to eat when you visit Savannah? We invite you to share your thoughts with our readers by leaving a comment below.
Author bio: Sandy Mitchell is a full-time freelance writer and former travel agent who writes for Hipmunk, among other travel sites. She has traveled extensively throughout the United States and beyond and published two books on Ohio history.
https://geniuscook.com/wp-content/uploads/2014/12/restaurant.jpg
524
700
Elena and Alfredo
https://geniuscook.com/wp-content/uploads/2014/02/gc-logo2.png
Elena and Alfredo
2014-12-10 06:54:42
2014-12-10 06:55:03
Top Southern-Style Restaurants in Savannah