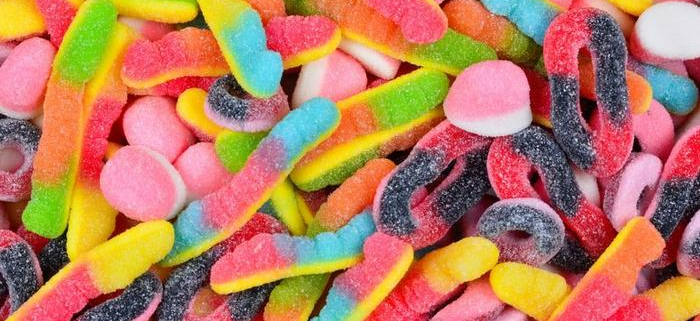 Top 10 UK Vegan & Vegetarian Sweets And Chocolate
Have you recently become a vegan? Making such a decision doesn't necessarily mean you should give up your favourite sweets. Nowadays, the majority of UK confectionery brands have become aware of the importance of introducing vegan-friendly treats. These candies and gummies are free from gelatin, palm oil, artificial colours, and synthetic flavours. Instead, they feature organic ingredients and natural flavourings while remaining faithful to the original taste and shape.

Even the packaging itself is recyclable and compostable to meet sustainability standards.
If looking for a good choice for vegans, the following top ten list of UK sweets might help.
Candy Kittens
One of the most popular UK vegan sweets is the Candy Kittens. This brand is completely vegetarian and mainly vegan. It offers a variety of traditional tastes, such as the sour watermelon flavour, as well as mango, peach, blueberry, and strawberry. The brand is devoted to using sustainable ingredients only, and the production process takes place in carbon-neutral environments.
Moreover, Candy Kittens are gluten-free and palm-oil-free, which makes them suitable for this target group. No artificial flavourings and colours are used in the production process either. Another proof of being devoted to sustainability is the fact that the packaging is recyclable.
Millions
Another famous UK vegan sweet is Millions. These sweets are absolutely sticky, tiny, but at the same time incredibly delicious. The array of colours and flavours ranges all the way from lemon to bubblegum.
Vegans appreciate the fact that these treats are vegetarian and vegan-friendly. The main ingredients in their products include coconut oil, glucose syrup, sugar, and thickeners. Most importantly, animal byproducts such as beef gelatin are eliminated from use. Check out these top ten evidence-based health benefits of coconut oil.
Starbursts
Another classic type of UK vegan sweets is Starbursts, which has a well-deserved spot in the top ten list. These have been around for years, providing sweet pleasure to many generations. Every bite is a burst of real fruit juice, making them both soft and chewy.
Starbursts were initially known as opal fruits until the company decided it was time to rebrand. Apart from changing the name, the process of rebranding brought another change in the use of ingredients. Namely, Starbursts started to be produced only with organic ingredients so as to cater to vegans and vegetarians.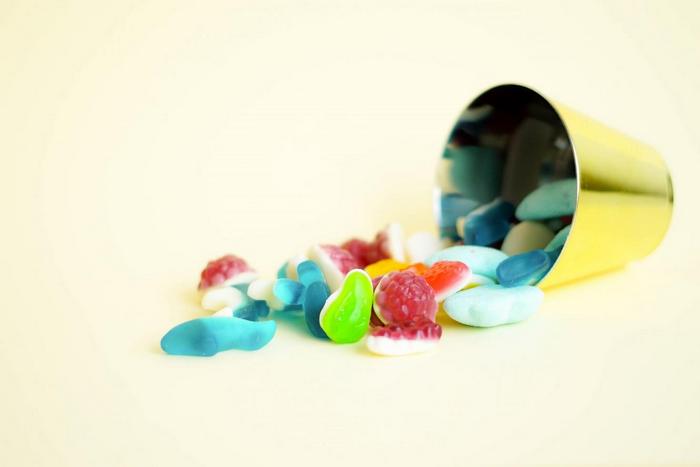 Conscious Candy
Conscious Candy is another British brand of vegan sweets, offering an entire assortment of penny treats. It offers bags of 500 grams and one kilogram of sweets, along with small packs and monthly subscriptions. Their product assortment features classic, cherry, and bubblegum cola bottles, accompanied by banana foams, strawberries, fizzy fangs, love hearts, jelly teddy bears, and others.
Furthermore, this brand has recently launched the first fried egg sweets, which are completely vegan and palm oil-free. The objective of this confectioner is to prove to customers that veganism can taste incredibly as well. The emphasis is placed on recycling packaging as well. Follow this link to learn why palm oil is so controversial.
Jealous Sweets
Jealous sweets are rightfully placed on the list of top ten UK vegan sweets, as they're gluten-free. These treats are also free from synthetic flavours, artificial ingredients, and palm oil. They appeal to buyers with their nostalgic and familiar shapes, such as bears, beans, and worms.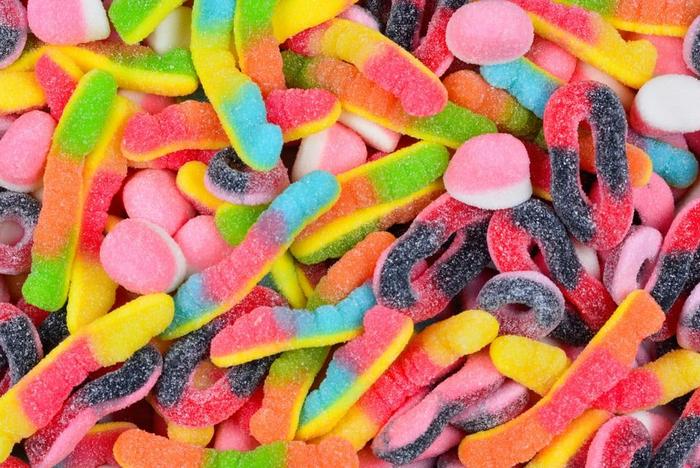 In addition, Jealous Sweets come in four popular flavours, lemon, apple, orange, and strawberry, all of them made with plant-based ingredients and natural fruity juices. If you're a fan of a sour taste, you should give the Tangy Worms a try. Otherwise, you won't make a mistake by choosing the Love Bears.
Skittles
Skittles are another favourite of UK vegan candy lovers. These are not only fruity but also chewy and crispy. Since 2010, these bite-sized colourful candy shells have been made with no beef gelatin included in the ingredient list. Instead of using gelatin, the brand introduced plant-based corn starch to keep to the classic chew. It's been over a decade since they started using organic ingredients only.
Fruit Pastilles
Fruit pastilles are popular sweets, which have gone fully vegan recently. The brand celebrated this change by launching four dessert flavours, including blueberry pie, apple crumble, mango sorbet, and Bakewell tart. They contain no gelatin and are considered great for testing your jaw muscles.
Vegummies
Vegummies have become a popular confectionary UK brand, offering an array of treats in pouches, jars, and boxes. Their pouches are eco-friendly and contain 900 grams of plant-based penny treats. They even sell a vegan-friendly variant of the banana foams, which are no longer easy to find. The packaging is recyclable and compostable.
Freedom Mallows
Individuals disappointed to give up marshmallows when going vegan can enjoy the Freedom Mallows. These gluten-free and animal-free marshmallows are the perfect substitutes. They come in white and pink colours but are also available in a chocolate-covered version. Those covered in chocolate have raspberry and vanilla on the inside. Find out more about how raspberries taste like.
Keats Carrot Gummy Sweets
Keats is a prominent London chocolatier, making luxury chocolate boxes, including options for vegans. Apart from chocolate, Keats produces gourmet vegetarian sweets free of preservatives and gelatin. For instance, their carrot-shaped gummies with a zesty flavour of orange are a real hit.
Final word
Veganism doesn't mean you should refrain from eating candy and chocolate.
There are suitable products for everyone!
https://geniuscook.com/wp-content/uploads/2021/10/sweets-sugar-gummibears-jelly33.jpg
468
700
Elena and Alfredo
https://geniuscook.com/wp-content/uploads/2014/02/gc-logo2.png
Elena and Alfredo
2021-10-20 07:32:54
2021-10-20 07:32:55
Top 10 UK Vegan & Vegetarian Sweets And Chocolate