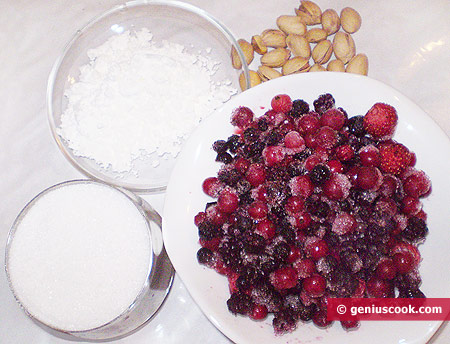 The Recipe for Berry Jelly with Pistachios
Fruit and berry jellies make a light and pleasant dessert. Jellies are wholesome for the stomach, they do not irritate the mucous membrane and are agreeable for the whole digestive tract. Jelly is a good baby food, too. Berries make an especially rich and tasty jelly. Take fresh berries in summer, and in winter you can use frozen berries.
Ingredients for Berry Jelly
0.6-0,8 lb frozen berries (strawberry, blackberry, currant)
2.1 pt or 5 glasses or 0.8 cup water
4-5 tablespoons sugar
3-4 tablespoons starch
a handful of pistachios
Recipe for Berry Jelly
Pour water over berries and sugar, bring to boil, take off the heat. Let it stand for some 20 minutes, then mash the berries in a fine strainer.
Throw away the skin and seeds and place the berry puree back into the syrup.
Dissolve starch in three spoonfuls of cold water and pour into the syrup.
Put the pan back on the stove and bring to boil stirring constantly.
Sprinkle chopped nuts over the jelly and serve.