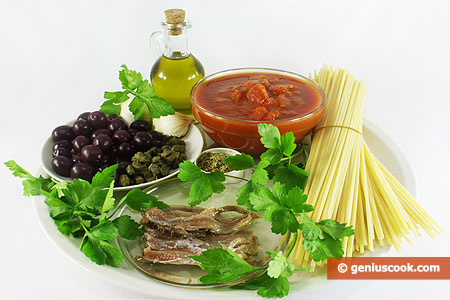 The Recipe for Spaghetti alla Puttanesca
The origin of this dish is not clear. Some sources insist that it was knocked up by a prostitute who came back home after a working day and found only these products at home. Others say that this sauce was invented by Sandro Petti, co-owner of a well-known restaurant and night club when his hungry friends arrived uninvited at his door and demanded to feed them quickly with any food he had at hand, jokingly calling calling him son of a bitch. In any case the name of this dish means that you can cook it easily and quickly from products which can be found in each Italian house any day of the year.
Spaghetti puttanesca recipes may differ depending on region and personal preferences. There is onion in some recipes, Neapolitans add more of their beloved oregano and red-hot Sicilians, of course, put in more devil's red pepper. But in most cases Puttanesca sauce is a bit salty from anchovies, spicy and fragrant. Traditionally the sauce is served with spaghetti, but it also goes well with long vermicelli, bucatini or linguini. The sauce is much tastier with di Gaete olives. It is one of the best sorts of olives, they are not big, of dark-violet color and they have a special, pungent, rich oily taste. They are usually used in different sauces.
Ingredients for Spaghetti alla Puttanesca
0.7 lb spaghetti
0.2 lb di Gaete olives
1 tablespoon salty capers
2 garlic cloves
1 teaspoon origano (oregano)
0.9 lb canned tomatoes
1.4 oz salty anchovies
3-4 tablespoons olive oil
some parsley stalks
red hot pepper, salt
Cooking Instructions
Pour olive oil onto a deep frying pan. Fry thinly cut garlic.
Add cut into halves and stoned olives. Put in chopped capers and quartered anchovy fillets.
Add tomatoes in 1-2 minutes. Sprinkle oregano.
Simmer the sauce for about 5-6 minutes. At the end of the process add finely chopped parsley, pepper to taste, mix everything and turn the fire off. Don't put any salt into the sauce, as anchovies and capers make it salty enough.
When the sauce is ready, it's time to cook spaghetti. Take 6.3 pts water, add a spoon of salt and boil it. Dip spaghetti into the boiling water and boil them until al-dente stirring constantly. Cooking time is usually printed on the package.
Drain spaghetti using a colander, mix them well with the sauce at once and serve while the dish is hot.
https://geniuscook.com/wp-content/uploads/2010/02/Ingredients-for-Spaghetti-alla-Puttanesca.jpg
300
450
Elena and Alfredo
https://geniuscook.com/wp-content/uploads/2014/02/gc-logo2.png
Elena and Alfredo
2010-02-17 04:25:54
2010-02-18 17:59:32
The Recipe for Spaghetti alla Puttanesca