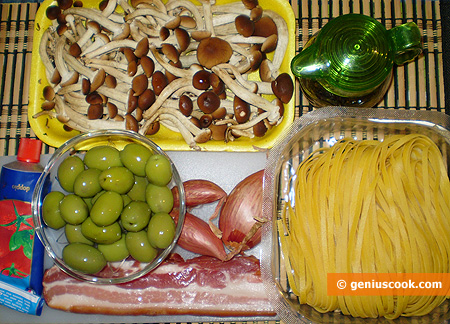 How to Make Tagliatelle with Pancetta, Olives and Mushrooms
A very easy dish to make, but very tasty and quite uncommon. It is made in Sardinia from fresh pasta, pancetta, local olives and small armillaria mushrooms ( agaric or honey mushrooms ). The peculiarity of this sauce for pasta that everything is cut enough large.
Ingredients for tagliatelle with pancetta and mushrooms
for 2-3 servings
Tagliatelle pasta (or Pappardelle): 250-300 gr.
Pancetta: 100 gr.
Agaric mushrooms: 150 gr.
Olives: 50 gr.
Shallots: 2-3 pc.
Tomato paste; 1 tablespoon
Extra virgin olive oil: 2-3 tbsp
Salt and pepper: to taste.
Recipe for tagliatelle with pancetta, mushrooms and olives
Pour some oil into a roasting pan, add pancetta cut into long sticks and shallot cut in blades along the bulb.
Fry them together for a couple of minutes and add tomato paste.
In another couple of minutes add mushrooms (don't cut them up, just cut off the tips of the stems and wash them).
Finally, put in olives and turn off the heat.
Boil pasta in a wide pan, take it out of the pan, put into the roasting pan, mix and serve at once.