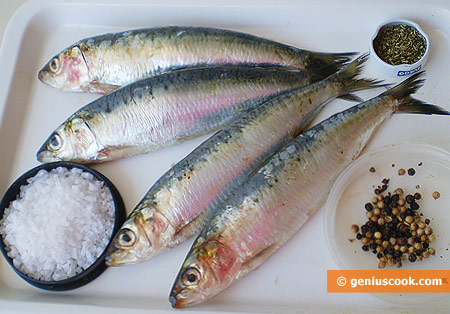 How does one salt fish at home? Usually fat fish is salted, like herring, sardine, mackerel, salmon, trout, because it ripens in salt well. Salt draws some of the moisture from the flesh, and the remaining moisture gets saturated with salt. That's what makes the fish almost inaccessible to reproduction of pathogens. Especially when using spices, which also have antimicrobial properties. Therefore, fish can be salted and at home.
Ingredients for Sardines in Spiced Salt
4 sardines (or herring), approximately 1.3 lb
2 tablespoons rough sea salt
1 teaspoon sugar
1 teaspoon black pepper and coriander beads
1 tablespoon mixture of spicy herbs – rosemary, oregano, thyme, basil
Recipe for Sardines in Spiced Salt
Gut the sardines, cut off the heads and take out the spines with ribs. Wash them well in running water.
Mix salt with spices and sprinkle the fish fillets on all sides.
Put them into a container and place in the refrigerator for 2-3 days.
After that the fish can be eaten. If it came out too salty, soak it in cold water and dry. Bathe it in olive oil.
This fish will go well with boiled potatoes, in salads or in sandwiches with onion or butter