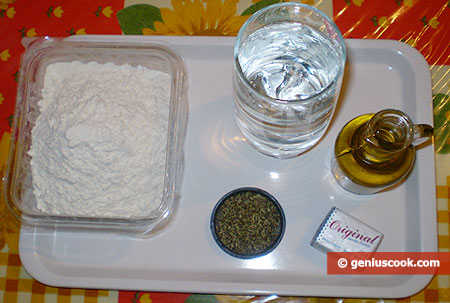 The Recipe for Pitta Bread with Fragrant Herbs
Pita, or pitta is a wheat flat cake with a pocket inside. It's the kind of bread which is very popular in Mediterranean countries. Pitta is perfect for stuffing. There are few things tastier than a fresh soft pitta with vegetables, greens, meat and different sauces. Here's our favorite recipe for pitta. We add fragrant herbs into the dough – marjoram, thyme, rosemary – and the pittas come out flavorful.
Ingredients for Pitta Bread with Fragrant Herbs
1.2 lb flour
10 oz or 1.5 glasses water
2-3 tablespoons sour milk or yogurt
3 tablespoons olive oil
ground fragrant herbs, sugar, salt: 1 teaspoon each
0,05 lb. yeast
Recipe for Pitta Bread with Fragrant Herbs
Dissolve yeast in warm water with sugar and salt. In 15 minutes add oil, sour milk, fragrant herbs and knead soft dough adding flour gradually.
Knead the dough well, not less than 20 minutes. A well-made dough should be elastic, soft and non-sticky.
Make a ball and place it in a deep bowl. Cover with a film and leave for 3 hours.
After that place the dough on a table sprinkled with flour. Divide it into balls of the same size.
Press them down with your fingers and roll out with a rolling pin. Let them lie like that for 20 minutes.
Bake them in an oven pre-heated to 430 degrees for about 3-4 minutes. As soon as the pittas have swollen up and gotten slightly golden, take them out at once, put on a dish and cover with a towel.
https://geniuscook.com/wp-content/uploads/2011/06/ingred-per-pita.jpg
303
450
Elena and Alfredo
https://geniuscook.com/wp-content/uploads/2014/02/gc-logo2.png
Elena and Alfredo
2011-06-30 09:04:12
2011-07-01 04:28:14
The Recipe for Pitta Bread with Fragrant Herbs