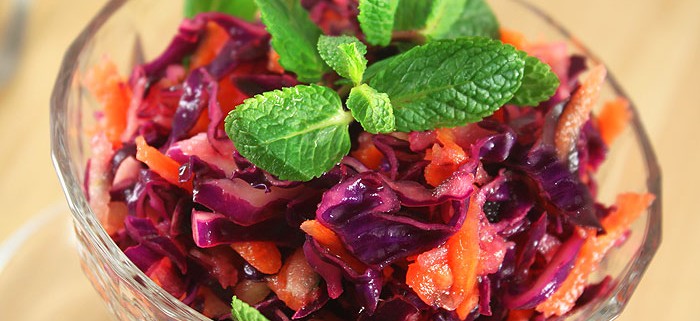 Try a bright red cabbage salad full of vitamins and antioxidants. It can be a perfect side dish to meat, fish or a healthy appetizer during the day.
Ingredients for Red Cabbage Salad with Apples
Half or a quarter of a small cabbage.
1-2 apples.
1-2 carrots.
Lemon juice.
Olive oil: 3-4 tbsp.
A few leaves of mint or basil.
Freshly ground black pepper, salt.
Recipe for Red Cabbage Salad with Apples
Chop the cabbage finely and mash it with

a couple

pinches of

 salt.
Grate apples and carrots using a coarse grater.
Mix everything in a salad bowl, season with lemon juice and olive oil.

Salt and pepper

to taste.

Mix all

,

give

the

stand for

about 30 minutes,

and

enjoy.