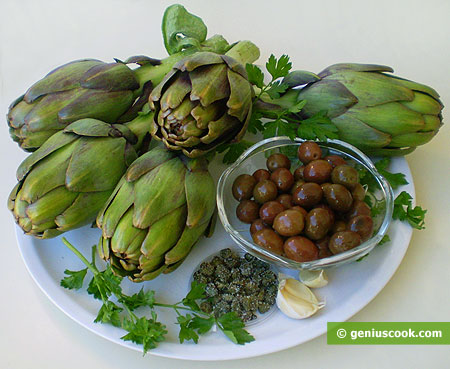 The Recipe for Artichoke Sauce with Olives and Capers
It is the second season for artichokes in Sicily now, and you can buy fresh juicy artichokes in the stores. They cook the tastiest dishes with them in Italy. For one, they make a delicious artichoke sauce with olives and capers, which will be enjoyed by all Mediterranean cuisine lovers. This sauce can be served as the main dish together with dried bread – bruschetta. They also cook pasta or rice with this wonderful sauce.
Ingredients for Artichoke Sauce with Olives and Capers
5-6 fresh artichokes
0.2 lb olives
1 tablespoon capers
3 garlic cloves
2-3 parsley stalks
3-4 tablespoons olive oil
6.8 fl oz/ 0.8 cub dry white wine
0.2 lb grated tomatoes
Salt
Cooking Instructions
Peel artichokes, removing some rows of outer petals, cut off about one third of the tops. This way you'll get only about one half of an artichoke bud left. You can use the upper parts of stems for the sauce with its rough skin peeled off.
Dice artichoke buds along thinly. Dice the stalks into thin slices.
Remove stones from olives, chop capers with a knife.
Pour olive oil into a wide pan with a thick bottom. Fry chopped garlic cloves, add parsley and put artichokes in at once, salt, mix intensively, letting artichokes fry slightly.
In 2 minutes add a cup of wine and grated tomatoes. Cover and simmer for about 15 minutes, then add capers and continue simmering for about 10 minutes more on low heat. At the end add olives and turn the heat off after two minutes.
Let the sauce stand for about 2-3 minutes and you can serve it as the main dish or add to other dishes.
https://geniuscook.com/wp-content/uploads/2009/11/Ingredients-for-Artichoke-Sauce-with-Olives-and-Capers.jpg
369
450
Elena and Alfredo
https://geniuscook.com/wp-content/uploads/2014/02/gc-logo2.png
Elena and Alfredo
2009-11-20 06:09:32
2009-11-20 06:09:32
The Recipe for Artichoke Sauce with Olives and Capers