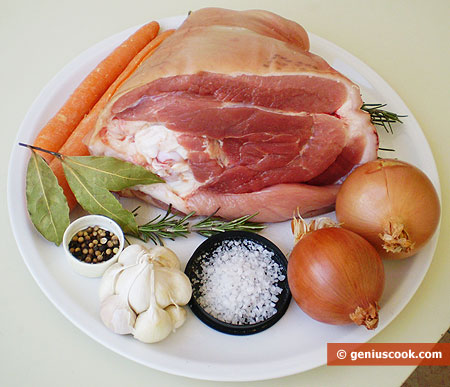 We would like to share another recipe for pork shank which we like. They like to cook pork shank in Czechia and Germany very much. Traditionally it is boiled with different spices first and baked in an oven afterwards. The shank is coated with different spicy mixtures before baking. The commonest spices used are honey, mustard and garlic. But in our family we do not go for meat with a sweet flavor, so we replaced honey with Worcestershire sauce. That makes it our family home recipe. The shank is guaranteed to come out soft and flavorful.
Ingredients for Pork Shank
1 pork shank (we got a 4 lb one)
2 carrots
2-3 onions
1 garlic head
celeriac
2 rosemary stalks
1 teaspoon whole coriander
1 teaspoon whole black pepper
3-4 bay leaves
rough sea salt
Ingredients for Mixture
1 teaspoon whole white pepper
4 garlic cloves
3 tablespoons Worcestershire sauce
1 tablespoon mustard
Cooking Instructions
Wash the shank, put it into a big pan and pour with cold water.
Add carrots, onions, garlic, rosemary, coriander, bay leaves, black pepper and salt. Dice the carrots, celeriac and onions largely, but you can put in the whole garlic. Cook the shank for about 2 hours over low heat.
Take it out of the broth and leave it to dry a little. Then coat it with a mixture made of mashed garlic, freshly ground white pepper, Worcestershire sauce and mustard.
Leave it for about an hour for better soaking, then place the shank in a pre-heated oven.
Bake it for about 1 hour at the temperature of 320-360 degrees. You can place potato slices around it, they will absorb the fat and become very tasty.
Serve the shank hot. Usually shank goes well with sauerkraut.
https://geniuscook.com/wp-content/uploads/2010/03/Ingredients-for-Pork-Shank.jpg
387
450
Elena and Alfredo
https://geniuscook.com/wp-content/uploads/2014/02/gc-logo2.png
Elena and Alfredo
2010-03-31 16:34:31
2015-03-06 20:46:51
How to Make a Pork Shank