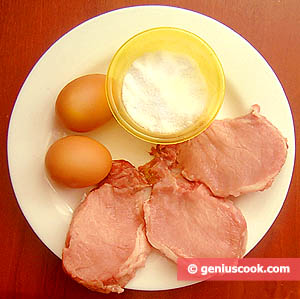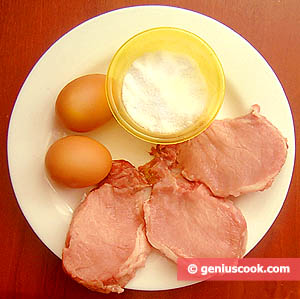 The softer and tenderer the meat, the more muscle tissue it contains, the more valuable it is, as it contains a lot of proteins. According to the latest data, pork is not as fat as it has been considered. A piece of lean pork has not an awful lot more fat than that in a dietary chicken breast. The main health benefit of meat is the fact that it plays a role of a catalyst of one's physical energy. Besides, meat is rich in necessary substances: iron, zinc, calcium. This is why one needs to pamper their own carcass and eat pork chops once or twice a week. Besides, it's very tasty.
Ingredients for Pork Chops
800 g to 1 kg pork (brisket) 2 eggs 100 g flour Salt, black pepper to taste 100 vegetable oil 1 onion.
Recipe of Pork Chops
Cut the meat across fibers into pieces 1,5-2 cm in thickness.
Tenderize the meat from each side so that it becomes half as thick.
Salt the meat and add pepper from both sides to your taste.
Roll the pieces in flour, remove excess flour.
Fold in the eggs into a bowl and beat them with a fork.
Then quickly dip the meat pieces in the eggs and place them on a warm frying pan with oil. Note, that there should be enough oil to prevent the meat from being burnt.
Fry every meat piece until it becomes golden brown for about 5-6 minutes from each side.
Serve the pork chops hot with onion rings, cucumber prickles and sweet pepper and any side dish to your taste.
https://geniuscook.com/wp-content/uploads/2008/03/for-kutlets.jpg
299
300
Elena and Alfredo
https://geniuscook.com/wp-content/uploads/2014/02/gc-logo2.png
Elena and Alfredo
2008-03-02 13:20:54
2014-01-27 16:30:00
Pork Chop