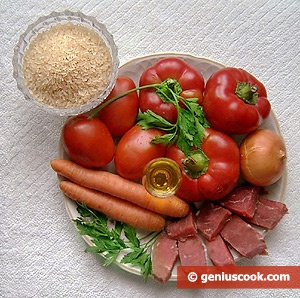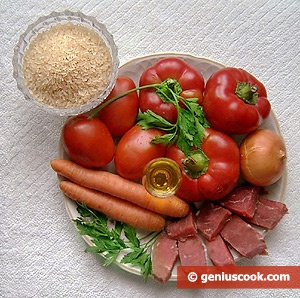 Stuffed peppers are a perfect dish, which could be eaten for both lunch and dinner. It's very nutritious and healthy. It can be prepared for children, but it would also be suitable for a romantic dinner. Everything important for our organism is very well combined in it: vegetables, meat and rice. Here you can use various kinds of sweet pepper – green, red, yellow – and even different varieties at the same time. Each ingredient of this dish gives its own aroma. Minced meat is so tasty, that it just melts in the mouth. It should be eaten hot. You can pour sour cream or mayonnaise on it – as you like. Although you will have to work for a while to prepare stuffed peppers, you will for sure make yours happy with this dish.
Ingredients for Stuffed Pepper
1 kg sweet pepper,
500 g beef,
200 g rice,
200 g carrots,
100 g onion,
300 g tomatoes,
70 g extra virgin olive oil,
50 g parsley,
Spices,
Salt to taste.
Preparation Instructions for Stuffed Pepper
Remove the content of the pepper, rinse them, but don't throw out the tails, you will need them to cover the peppers.
Fry chopped onion in olive oil, when it becomes golden brown, add chopped carrots and stew for 3 minutes.
Add tomatoes cut into small pieces and parsley. Fry for 10 minutes stirring all the time.
Cut beef into small pieces. Add to this sauce and go on stewing everything together for more 10 minutes.
Boil rice till it's almost ready, pour the water out. Mix with meat and sauce, add spices, chopped greens and salt – everything to your taste.
Mix everything thoroughly and stuff the peppers with it.
Place the stuffed peppers into a frying pan or a deep baking tray.
Bake in oven at 150 C degrees for 30-40 minutes till the peppers are ready.
Serve hot.