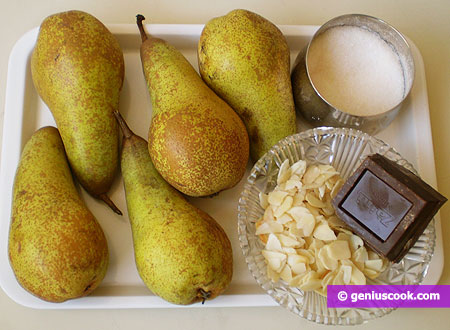 Making "Belle Helene" Pears with Chocolate Sauce
Belle Helene pears were first prepared in Paris in the 19th century and got the name from Offenbach's romantic operetta. The dessert has retained its popularity since then. Traditionally it's eaten with a ball of vanilla ice cream and crispy almond cookies. But you can serve just pears with the sauce.
Ingredients for Pears with Chocolate Sauce
6 pears
0.24 lb dark chocolate
almond petals
1 glass water
4 tablespoonfuls sugar
Recipe for Pears with Chocolate Sauce
Peel pears, leaving the stems in place.
Place them into a deep pan.
Pour them over with sugary water. Cover up and simmer on low heat for about 15-20 minutes, the time depending on the pears' softness. Take the pears out, cool them down and dry.
Keep boiling the pear syrup until it's half its previous volume. Then pour it into a small pan and put it on water bath. Add chocolate and melt the mixture stirring constantly.
Pour the pears over with hot chocolate sauce and sprinkle with almond petals.