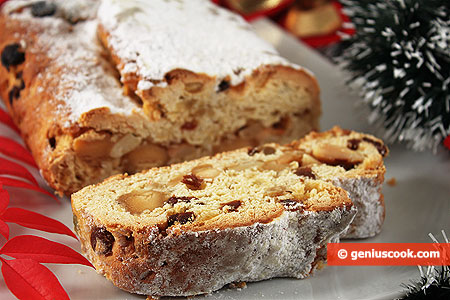 Making Almond Stollen for Christmas
Christmas traditions run very strong in Germany. Probably the most salient feature of Christmastime cuisine is stollens – sweet flavorful pastry with solid rich texture that melts in the mouth.
Stollens originate from centuries ago. They exist in several versions. The most popular is Dresden Stollen, its name and recipe are protected by trade mark. These stollens are baked by licensed bakers only, from certified products coming from Dresden and its surroundings. The geographical origin is a guarantee of the pastry's authentic unique features. Bakers make stollens by hand, using only butter, no margarine.
Ingredients for Almond Stollen
for 2 Stollen
Flour: 750 gr.
Butter at room temperature: 350 gr.
Sugar: 100 gr.
Milk 120 ml.
Eggs: 2
Peeled almonds 200 gr.
Marzipan: 250 gr.
Raisins: 250 gr.
Rum 50 ml.
Candied orange peel: 70 gr.
Candied different fruits, assorted (lemon, citron, cherries): 130 gr.
Fresh yeast: 50 gr.
Cinnamon, cardamom, nutmeg: all of 0.5 tsp
Recipe for Almond Stollen
Mix raisin, soaked in rum for 2-3 days before, or the day before, with candied fruits and candied peel.
Fry lightly almond in a dry pan, and chop roughly.
Roll up balls from marzipan.
Dilute yeast with warm milk, add 2 tablespoons sugar and 1 tablespoon flour.
Sift flour, make an indentation, pour in the yeast.Wait froth, about 15 minutes.
Then add eggs, remaining sugar, pinch of salt, spices. Knead dough, gradually capturing flour.
Add butter until it has all soaked in. Knead dough for 10 minutes more, making it smooth and elastic. Form a ball and leave it to come to in the bowl, for 40 min.
Then mix in candied fruits, peel, raisin and leave the dough to come to for 30-40 minutes.
When it has swollen, separate dough into two parts and roll out into rectangles.
Strew marzipan balls and almond over the surface, pressing them down into the dough lightly. Leave a margin along one edge which will be the upper layer.
Fold the dough in three, overlapping. Put the stollens onto a profound baking tray with baking paper.
After 5-10 minutes, place into the oven preheated to 430 degrees.
Bake at this temperature for 10-15 minutes, then reduce it to 338-320 degrees. And continue to bake another 40-50 minutes. Check for readiness with a toothpick, it should come out clean.
Grease cooled stollen with melted butter and sprinkle abundantly with powdered sugar.
Wrap them up in parchment and then in foil, put away in a cold place for 2 weeks.
During this time stolen will acquire perfect taste, developing divine inter flavors, and it will inexplicably grow into a culinary masterpiece.
Its every piece will be really a sheer delight.
https://geniuscook.com/wp-content/uploads/2013/12/weihnachtsstollen.jpg
300
450
Elena and Alfredo
https://geniuscook.com/wp-content/uploads/2014/02/gc-logo2.png
Elena and Alfredo
2013-12-11 09:10:38
2014-06-27 13:33:20
Making Almond Stollen for Christmas