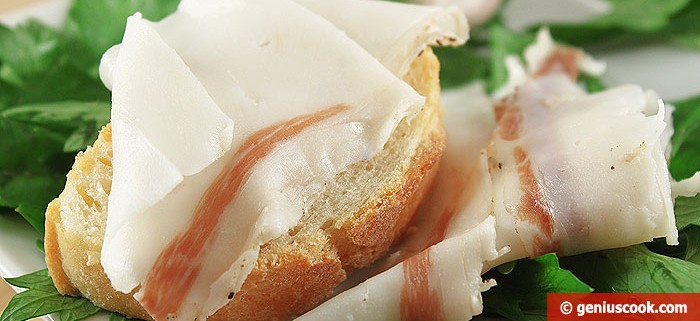 Pork lard is an ancient product. It came from Italy. It was there 3000 years ago that the first case of using lard in the nutrition of slaves was recorded. It gave power to the people who worked in marble quarries.
The most famous brands of Italian lard are "Lardo di Colonnata" and "Valle d'Aosta Lardo d'Arnad".
"Lardo di Colonnata" comes from the small town of Colonnata, located next to the famous marble quarry of Carrara, in the Alps of northern Tuscany. The local men, mainly engaged in the quarries, traditionally took pork fat with them for a snack, eating it along with other typical Italian products: olives, tomatoes, and bread.
At present, lard is no longer the food of the poor. It has become a local delicacy that outshone even Carrara marble.
The originality of the cooking process of Lardo di Colonnata is based on the use of troughs carved from local marble, which has unique properties for food storage. It provides the necessary temperature, humidity, and natural preservative.
The production of lard begins in September. First, marble baths are thoroughly washed with vinegar. Then, their inner surface is rubbed abundantly with garlic. Next, sea salt is rubbed into lard. The bottom of the bath is sprinkled with salt. Blocks of lard, richly sprinkled with a mixture of spices are stacked there.
Each manufacturer has his/her mixture and tries to keep it a secret. But the use of black pepper, garlic, and rosemary is what they have in common. Extras can be added – juniper, nutmeg, allspice, star anise, thyme, sage, oregano, coriander, bay leaf.
Different proportions and combinations of spices allow each manufacturer to have their corporate family recipe and get lard with a variety of flavors.
When the container is full, it is tightly closed and sent to aging.
Lard is aging in marble caves for about 6 months. The result is a tender pork fat, melting in the mouth and enveloping you with its rich fragrance.
The Italians are proud of another lard variety, Valle d'Aosta Lard d'Arnad. Instead of marble baths, barrels of oak, walnut, and chestnut are used here. The original taste of this lard is influenced by the tannins contained in wood. Instead of salt, saturated brine with spices and herbs is used. This lard is aging for about a year.
Then, lard is removed from the brine, covered with white dry wine and stored in sealed glass containers. This lard has a sweet delicate flavor and a tender melting texture. It is cut into thin slices before eating.
Compared with these two types of lard, all other varieties simply do not matter.
So when you are in Italy, try to taste these delicacies.
Lard, at moderate use, is considered to be a very useful product. It contains vitamins A, E and arachidonic acid, which is actively involved in the cell, cholesterol metabolism and hormonal activity.
https://geniuscook.com/wp-content/uploads/2015/01/lardo-italiano1.jpg
488
700
Elena and Alfredo
https://geniuscook.com/wp-content/uploads/2014/02/gc-logo2.png
Elena and Alfredo
2015-01-29 10:26:14
2015-01-29 10:26:14
Italian Lard