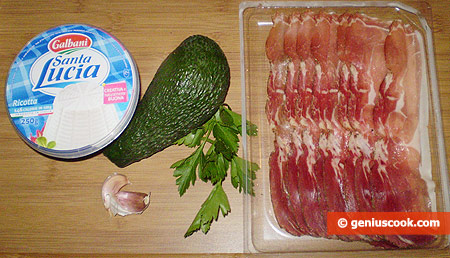 Here's an appetizer that will fit a romantic dinner on St. Valentine's Day – especially when you make it to look like roses. The taste will be overwhelming if you get good dry-cured ham like Spanish jamón,  Italian proiscuitto or speck.
Avocado Cream is delicious, it can be is simply spreading on bread or buckwheat pancakes.
Ingredients for Rolls with Ham and Avocado Cream
0.4 lb ham, jamón, proiscuitto or speck
0.5 lb ricotta
avocado
2 tablespoons lemon juice
2 garlic cloves
 parsley
Recipe for Rolls with Ham and Avocado Cream
Cut the avocado in halves, put out the stone, scrape out the pulp and sprinkle with lemon juice at once.
Mix the pulp with ricotta and mashed garlic with parsley.
Spread this mixture over thin ham slices and roll them up.
Set them on a dish vertically opening them up slightly so they will look like rosebuds