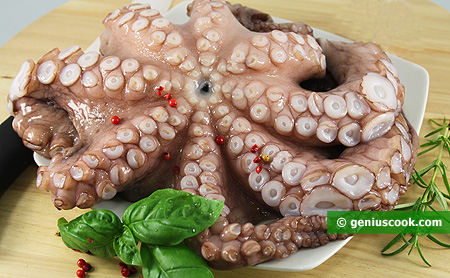 How to Make Octopus Carpaccio
Carpaccio is usually served as a main dish or as a hors d'oeuvre. This way of cooking and serving is widely used in Italian cuisine.
Octopus carpaccio is an exquisite dish, tender and tasty. It is a regular item in the menu of expensive restaurants.
The tastiest octopuses are those which have two rows of suckers on each of the 8 tentacles.
Ingredients for Octopus Carpaccio
Octopus: about 1 kg.
A sprig of fresh rosemary.
Pink and black pepper.
Marine large salt 1 tbsp.
Parsley, basil, olive oil, lemon juice.
Empty plastic bottle.
Recipe for Octopus Carpaccio
First of all wash the octopus in running water, remove the mucus. Take out the guts, eyes and beak.
Put a pan half filled with water on the heat, salt, rosemary, pink and black pepper.
Bring to boil and put the octopus in.
Cover the pan with a lid and boil for about an hour.
Let the octopus cool down in the water it was boiled in, or you'll get a rubber-like substance.
When it has cooled, take it out, cut into large pieces, leaving the tentacles intact.
Put it into an empty plastic bottle with its top cut halfway and its bottom pierced.
Press the octopus meat in with a hammer so there won't be any empty pockets, and leave in the refrigerator for 24 hours.
Take the octopus out of the bottle and cut into thin slices.
Put in a dish, sprinkle with olive oil mixed with lemon juice and chopped parsley and basil.
https://geniuscook.com/wp-content/uploads/2013/08/polpo-ingrediente.jpg
278
450
Elena and Alfredo
https://geniuscook.com/wp-content/uploads/2014/02/gc-logo2.png
Elena and Alfredo
2013-08-04 06:06:03
2013-08-19 06:57:50
How to Make Octopus Carpaccio