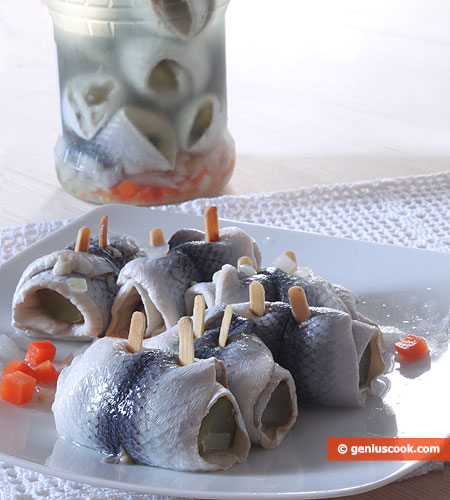 German Herring Rollmops Recipe
The Germans love and know how to cook tasty herring. Pickled herring with a tasty filling is great for snacks. Goes well with baked potato.
Besides, it is known a good anti-hangover remedy.
Ingredients for German Herring Rollmops
Salted herring: 3-4
Carrot: 1-2
Onions: 1-2
Pickled cucumbers: 1-2
For the marinade – 2 glasses of water and a glass of 5-6% vinegar, 2 tsp. sugar, cloves, coriander, black pepper and bay leaf. You can add other spices that you like.
Vegetable oil.
Recipe for German Herring Rollmops
Peel carrots and onion, chop finely .
Boil some water in a saucepan, put all the ingredients therein – carrots, onion, coriander, bay leaves, a pinch of pepper, cloves, sugar. Cook for 10 minutes. Then add the vinegar.
Remove carrots and onions from the marinade using a skimmer.
Scale the herring, cut into fillets, remove the spine with ribs and small bones.
Beat the herring fillets lightly through a plastic wrap, generously oil, top with carrots, onions and slices of pickled cucumbers.
Roll each fillet and fix with a wooden skewer.
Place the rollmops into a jar, pour the cold marinade over, close tightly.
Leave in the fridge overnight.