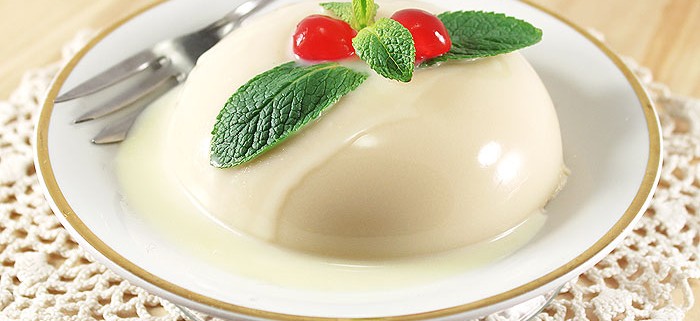 This dessert is very soft. It has a pleasant texture and an alluring scent of tropical coconut. It is easy to cook and gives a lot of pleasure.
Wonderful idea for a romantic dinner. For example, blancmange can cook for your loved ones on Valentine's Day. You can even make a dessert in the form of hearts, if you have the appropriate molds.
Here we have used here not purified cane sugar, so dessert turned out with creamy colors. If you want a pure white color, then take the white refined sugar.
Ingredients for Coconut Blancmange with White Chocolate
Coconut milk: 200 ml.
Whole cow milk: 200 ml.
Gelatin sheet: 12 sheets (24 gr).
Cane sugar: 100 gr.
White chocolate: 50 gr.
Grated coconut: 2 tbsp
for the sauce
White chocolate: 50 gr.
Milk: 50 ml.
Mint, cherry: for decoration.
Recipe for Coconut Blancmange with White Chocolate
Gelatin should be covered with cold water.

Heat to boiling

 milk with sugar, chocolate and grated coconut in a saucepan.
Turn off the heat and add gelatin after removing water.
Stir it until gelatin dissolves.
Pour the mixture into molds.
Put it in the refrigerator for 2-3 hours.
Then remove the dessert from the molds and serve it under the sauce of white chocolate.