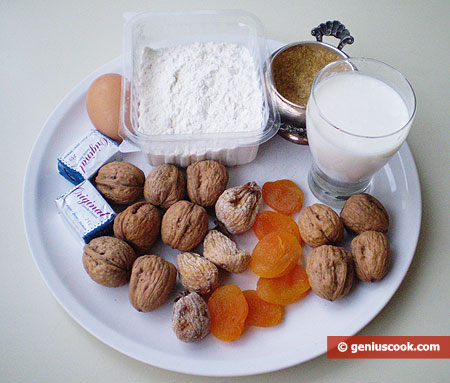 The Recipe for Buns with Nuts, Figs and Dried Apricots
If you make dough in accordance with this recipe it will be very soft. These homemade buns don't get stale as quickly as store-bought ones; they remain soft and puffy for a long time. You can fill the buns with everything you have: any dried fruits, candied fruits, nuts. We had walnuts, dried figs, dried apricots. This mixture is very tasty and it gives the dough a charming flavor.
Ingredients for Buns with Nuts, Figs and Dried Apricots
1.5 lb flour
1 egg + 1 yolk
0.1 lb butter
3-4 tablespoons olive oil
1.2 cup sour milk, kefir or yoghurt
10-12 walnuts
5-6 figs
8-10 dried apricots
0.3 lb brown sugar
teaspoon salt
0.1 lb fresh yeast
Cooking Instructions
Dissolve yeast in warm kefir. Add an egg and one yolk, soft butter, olive oil, sugar and salt.
Mix everything carefully and then add sifted flour gradually hand-kneading the dough.
Gradually add all the flour, knead the dough well until it gets elastic and not sticky. Add chopped nuts, dried apricots and figs. Mix it all into the dough.
If the dough is still sticky add a little more flour. The longer you knead the dough, the puffier it will be.
Then shape the dough into a ball, place it in a deep bowl, cover the bowl with a wet towel and put it in a warm place.
In an hour when the dough has doubled in size, knead it again and leave it until it rises again. But if the yeast is for fast baking roll the dough right after it has risen for the first time.
Make small balls and form the buns.
Lay the buns on a baking sheet sprinkled with flour or into forms and leave them for about 40 minutes to rise.
When the buns have grown coat them with olive oil and place in a well heated oven for about 30 minutes. You will have to watch for their color – when the buns get nicely brown they are ready.