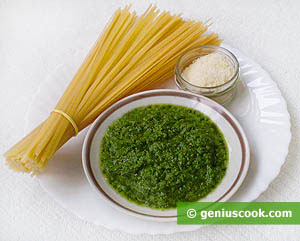 Bavette Pasta with Pesto Genovese Sauce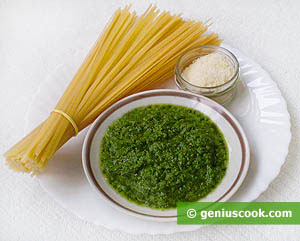 Pasta bavette, with pesto sauce is a staple dish of the Genovese and Ligurian cuisine. Ligurian pesto sauce is made with homegrown ingredients. Basil grows in the fields in the northern part of Liguria. Extra Virgin olive oil is extracted only from the olives of Ligurian groves. And sheep cheese (Pecorino Sardo) is transported from Sardinia by ships. Sardinia is famous for its sheep farming and superior sheep cheese. Bavette pasta with pesto sauce is very healthy. The sauce is not exposed to the thermal treatment, which preserves vitamins and minerals while bavette pasta is made from figure-friendly hard wheat.
Ingredients for Bavetti Pasta with Pesto Genovese Sauce
400 g Bavette pasta
100 g Parmesan cheese
200 g pesto genovese sauce (try our recipe or buy at grocery stores)
Salt to taste
Recipe of Bavetti Pasta with Pesto Genovese Sauce
Finely grate Parmesan cheese.
Boil bavette pasta in a large amount of salted water.
Stir occasionally to ensure the pasta doesn't stick together.
Cook until al dente (firm but not soft).
Use colander to drain water.
Put boiled bavette into a large bowl.
Add the pesto sauce and grated Parmesan. Toss well to combine.
If dry, pour some olive oil.
Arrange on plates and top with grated Parmesan if desired. If still dry after putting Parmesan, add one or two spoonfuls of pasta water.
Serve immediately.
https://geniuscook.com/wp-content/uploads/2008/12/bavetti-pesto.jpg
241
300
Elena and Alfredo
https://geniuscook.com/wp-content/uploads/2014/02/gc-logo2.png
Elena and Alfredo
2008-06-03 19:15:51
2014-01-27 13:59:38
Bavette Pasta with Pesto Genovese Sauce