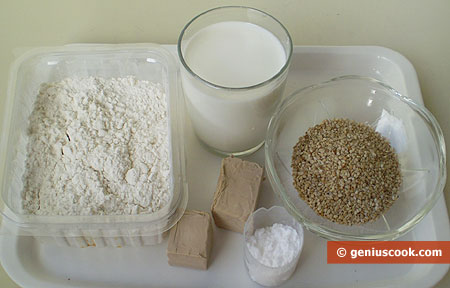 Pretzels are very popular in Germany; they are typical for the Bavarian cuisine. Traditionally they are dusted with coarse salt and served with beer. We prefer Pretzel sprinkled with some seeds. For example, sesame seeds emphasize the delicate taste of the dough nicely. Pretzels with sesame or poppy make a perfect breakfast. In short, they are good for all occasions. There are Pretzels shaped like cracknels, buns or long sticks. What makes the dough special is that it is boiled in water with soda before baking. They have a very crispy dark crust and while being soft and airy inside.
Ingredients for Pretzel
1.4 lb flour
1.9 cup milk
1.6 oz fresh yeast
2 teaspoons salt
2 teaspoons sugar
1 tablespoon cream
sesame for sprinkling
1 teaspoon soda
2.1 pt water
Cooking Instructions
Dissolve yeast in warm milk.
Add salt and sugar. Knead the dough adding sifted flour gradually until the dough is soft and not sticky.
Shape the dough into a ball, place it in a bowl and cover with a towel.
When the dough doubles in size, knead it again. Divide the dough into small balls. Their size depends on just how large you want your bretsels to be.
Roll each ball into a long roll. Make Pretzels, twisting the rolls' ends.
Dissolve a teaspoonful of soda in 2 pints water. Boil the water. Dip every bretsel in this solution for 30-40 seconds by turns. Put them on a large muffin carefully to let the water come off.
Spread the Pretzels on a pre-oiled baking sheet, sprinkle them with sesame seeds. Put the baking sheet in an oven heated up to 360-400 degrees. Bake the Pretzels for about 20-25 minutes until they acquire a nicely brown crust.