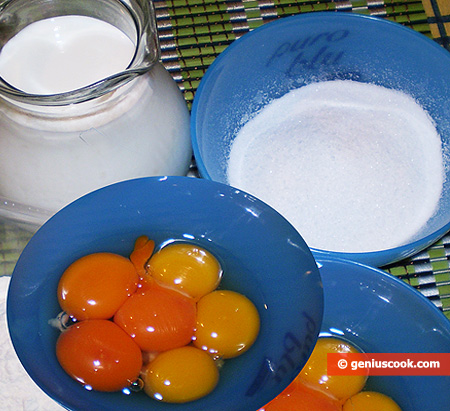 The Recipe for English Cream
The mixture of 4 products only gives a substance of unconceivable tenderness. The resulting cream, or vanilla sauce, can be used in many different sweets – desserts, puddings, ice cream, fruit, mousses.
The thickness of the cream is set by the number of egg yolks, the thicker you want the cream to be, the more yolks you must take. Do not bring the cream to boil, it is of prime importance.
Ingredients for English Cream
Egg Yolks: 5-6.
Milk: 500-600 ml.
Sugar: 180-200 gr.
Vanilla pod or essence.
Recipe for English Cream
Pour milk into a pan, add a vanilla stalk with pulp and put on heat.
Whip up yolks with sugar. Don't leave unwhipped yolks with sugar standing by for a long time – they can develop hard crumbs that won't dissolve.
Mixing with a wire whisk, pour hot milk into the yolk mixture little by little.
Then pour the whole mixture back into the pan.
Boil the cream on low heat, stirring constantly with a wooden spoon.
Heat the cream about to 195 degrees F.
Here's the easy way to test if the cream is ready: take the spoon out of the cream and pass your finger along the outer side from top to bottom. If the trace is clearly visible, the cream is ready.
Take it off heat, pour through a fine sieve into a clean container and let it cool down, stirring from time to time to prevent the formation of skin on top.
Keep covered with a film, not longer than for 24 hours, in the fridge.
And if you connect it with whipped cream and freeze, you will have a great vanilla ice cream.