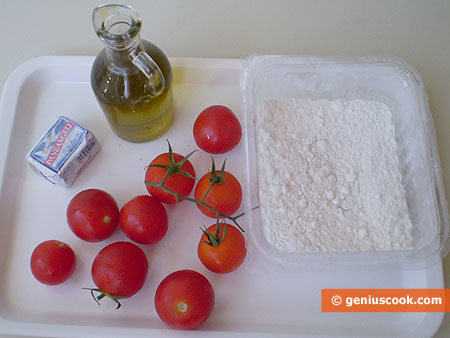 The Focaccia with Tomatoes Recipe
Focaccia with cherry tomatoes is one of our family's favorites. Italian cuisine is practically unimaginable without this aromatic bread shaped like a flat scone. Focaccia is easy to make. The important thing is to put in enough time and make sure that the dough has been kneaded carefully.
Ingredients for Focaccia with Tomatoes
0.8 lb flour 00
1 ¼ glass water
0.3 lb cherry tomatoes
0.04 lb fresh yeast
2 tablespoonfuls olive oil
salt
Recipe for Focaccia with Tomatoes
Take a bowl and dissolve yeast in warm water with salt. Add the olive oil.
Adding flour gradually, knead elastic dough for 10 to 15 minutes. Put the dough into a dish or a bowl coated with olive oil and cover with a wet napkin. Leave it for an hour until it has gotten twice the size.
Form smallish flat scones and leave them lie for another 40 minutes.
Make pits in them pressing down with your finger; put in halved cherry tomatoes and sprinkle the focaccia with olive oil.
Place the focaccia in an oven pre-heated to 392 degrees and bake for 20 minutes until golden.