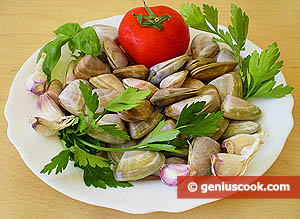 Tellina in Tomato Sauce Recipe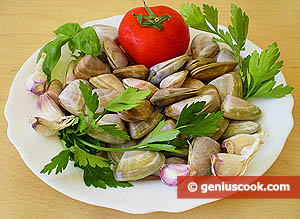 Tellina is a bivalve mollusks belonging to Tellinacer family. In Italy, there are two types of this shellfish Tellina pulchella и Tellina exigua. They have smooth fragile rectangular-shaped shell with horizontal stripes. The flesh of tellina is tasty, sweetish and soft. They are used for making mouth-watering brodetto sauces which are served with toasts. Italians also top their pasta with tellina sauce. You can eat fresh tellina raw. Tellina lives in the sand along the coasts, forming colonies. It occurs in Mediterranean, Black, and Red Seas and in Atlantic Ocean.
Tellina is a healthy and dietary food due to its low calorie content – 85 kcal per 100 g. So tellina dishes are great for those who are dieting and watching their weight.
Ingredients for Tellina in Tomato Sauce
1.5 tellina
3 garlic cloves
2-3 tomatoes
3-4 tablespoons extra virgin olive oil
Several parsley stalks
Salt to taste
Recipe for Tellina in Tomato Sauce
Chop garlic cloves finely.
Wash parsley and shred it.
Peel tomatoes and cut them into small cubes.
If you have alive shellfish, wash tellina in running water using colander. Make sure you stir them with your hand so they don't open up and release its juice and salted water inside the shells.
If you have ready shellfish, just put them into the sauce later.
Then, sauté garlic with parsley, add tomatoes, cover and simmer for 10 minutes,
Now add tellina shellfish and they open up their shells.
Cover again and simmer for 10 minutes.
Season with salt to taste.
When all shells are open, tellina sauce with tomatoes is ready.
Transfer the sauce into a large soup bowl and serve.
You can serve it in smaller bowls and garnish with parsley stalks.
Eat tellina's soft and flavorful flesh right out of their shells Make sure you put a small plate on the table to discard shells.
Note: Traditionally, tellina sauce is used as a spread for bruschetta – large toasted slice of bread rubbed with garlic or smeared with olive oil. As you enjoy tellina flesh, bruschetta is being soaked with the sauce. So you finish your meal with this amazingly tasty bread soaked with the sauce.
https://geniuscook.com/wp-content/uploads/2008/09/ingredients-for-tellina-in-tomato-sauce.jpg
219
300
Elena and Alfredo
https://geniuscook.com/wp-content/uploads/2014/02/gc-logo2.png
Elena and Alfredo
2008-09-01 04:27:41
2014-01-27 11:53:44
Tellina in Tomato Sauce Recipe