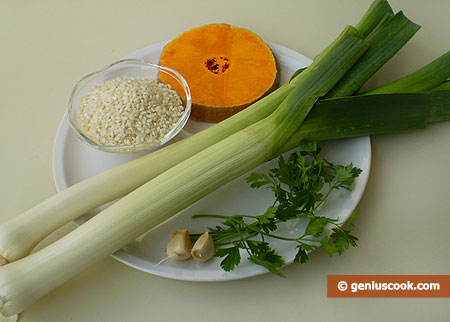 How to Make Risotto with Leek and Pumpkin
Here is one more recipe for some tasty Italian risotto. It is cooked with leek and pumpkin. These two ingredients go perfectly well together and give risotto an amazingly soft, sweetish and piquant taste. Those who like pumpkins and leek would enjoy this dish. When cooking risotto you must stir it continuously adding broth and wine. Use a wide pan with a thick bottom.
Ingredients for Risotto with Leek and Pumpkin
0.7 lb leek
0.7 lb Arborio rice
0.7 lb pumpkin
2 pt/ 4 cups chicken broth
0.3 pt/ 5.1 fl oz/ 0.6 cup dry white wine
2-3 garlic cloves
2-3 parsley stalks
olive oil, peppered olive oil, salt
Cooking Instructions
First let's make pumpkin sauce. Saute chopped garlic in olive oil, then add parsley and in a minute add pumpkin cut into medium-sized slices. Salt, add some chicken broth and simmer the pumpkin until soft.
When the pumpkin sauce is ready you can start to cook risotto. First slice leek into thin rings and fry in olive oil. Then add rice and saute it with leek quickly.
After that add chicken broth and wine gradually and stir the rice constantly. Once the broth and wine are absorbed, add the next portion.
At the end add a teaspoon of peppered olive oil or just some red pepper, salt to taste. Rice in risotto should not be overdone.
Serve risotto hot, top it with thick pumpkin sauce and strew with grated Parmesan.